Today while perusing The Australian newspaper I noticed a headline concerning the University of Western Australia and a proposal to close down its publishing house, UWAP. This sparked my curiosity, both because I was born and raised in Perth but also because the once great UWA has been completely subverted by the lefty-luvvie prog brigade and UWAP is one of their propaganda cornerstones. Such a decision struck me as being rather odd and out of sync with the extreme leftism at such an institution of lower learning.
So I clicked on the article and within a few seconds the mystery was solved. All became clear by the second short paragraph. See if you can spot the subtle clue.
The University of Western Australia has responded to an onslaught of criticism over its sudden decision to close down UWA Publishing by announcing it will formally consult the literary community about its future.
Deputy vice-chancellor Tayyeb Shah, who was appointed to UWA in June and told staff this month the 85-year-old university press would close, tells The Australian that support for UWAP has been "impressive and heartening".
I have no idea from which country Tayyeb Shah hails, but truly he a globalist man for globalist times. Which is probably why only a few months after being parachuted into such a position he's attempting to shut down the 85 year old publishing house.
"I am working on a plan for a formal, wide and open consultation process on UWAP's future direction," he says.
No, he's not. He had planned to just close it. I mean, the staff have been given their pinks slips and everything.
Yet almost all UWAP staff, including director Terri-ann White, are due to leave within weeks when their contracts expire at the end of next month. On November 5, staff were told that under the university's "global partnerships strategic vision", their roles were likely to be surplus to requirements as UWAP operations progressively were closed down.
Doesn't sound like a formal, wide and open consultation process to me, whatever that means anyway. So who is this Tayyeb Shah character? Let's look at his UWA bio.
During his 12 years at King's College London, Mr Shah was instrumental in expanding the university's international and commercial partnerships. He was responsible for identifying, conceptualising and developing a number of strategic multi-million dollar projects which increased and deepened King's College London's worldwide engagement, particularly in China.
China is a little bit on the nose right now, what with all of the spying and attempts to infiltrate and run their own secret Communist candidates in the last Federal election. You know, it's our very own Russia! election hoax, only ours happens to be real. I wonder to what level Mr Shah's engagement with China runs? Well, as recently as a few weeks ago he was in China where he went for a meeting at the Shanghai Jiao Tong university.
On the afternoon of November 1, 2019, SJTU Vice President Xu Xuemin met a delegation from the University of Western Australia (UWA), which was led by UWA Deputy Vice-Chancellor Tayyeb Shah. Professor Liu Yinong, Associate Dean International of Engineering and Mathematical Sciences, UWA, also attended the meeting.
Here's a photo of that meeting. See if you can figure out which side of the table represents the Chinese university and which sides represents the Australian university.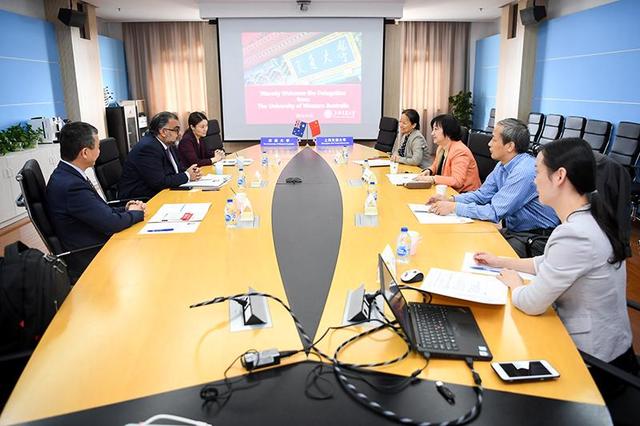 Oh look, the little flags at the end of the table give it away. Or perhaps they're simply there to remind everyone of which side they're nominally on. Of course I'm sure that Mr Shah was only there for Australia's best interests, even though he's a foreign blow-in who hasn't even been in the country for six months.
What an embarrassing photo that is for Australia. We are no longer our own people. Just what must the Chinese side be thinking? Probably that they've already won down under. But I can hear the counter arguments now: surely UWA sent that delegation to make their hosts feel welcome, to fit in with their culture and make the talks easier. Apart from the fact that it's the job of hosts to make guests feel comfortable, if that is the case then I suppose when the Shanghai university visits UWA in Perth that two of their party will be blue eyed and blonde haired devils. Stands to reason, right?
The ironic thing here is that the lefty-luvvies of UWAP are simply getting their globalism good and hard, and isn't that what they've been crowing about for so long? Multiculturalism means globalism, and globalism means getting some guy named Shah to come in and start shutting down your Western institutions and firing your staff under the auspices of "global partnerships strategic vision".
This is what happens when you support an agenda that at its heart wants to see you destroyed. But the prog left never actually believe that they will be personally effected. They're special, don't you know.
One hundred writers, poets, academics, editors, artists and publishers signed an open letter to French this month demanding that UWAP's closure be halted.
The signatories include authors David Malouf, Kate Grenville, Christos Tsiolkas, Helen Garner and Melissa Lucashenko and the chief executives of La Trobe University Press, UNSW Press, Melbourne University Press and University of Queensland Press.
What an extraordinary list of far-left luvvie lunatics. The schadenfreude is strong in this one. As for UWA, it was lost many years ago; its once fine shield symbol is now composed of the rainbow flag of sodomite godlessness. The only university of note in the entire country is Notre Dame university in Fremantle. The rest may as well be taken over and gutted by foreign interests. But it begs the question as to why they are still funded by taxpayers. If our Liberal government had any balls then they would defund the lot of them. But they're conservatives so they're just going to keep fiddling the books while the country burns and we're sold down the Yellow River.
This article was originally published at https://pushingrubberdownhill.com/, where Adam Piggott publishes regularly and brilliantly. You can purchase Adam's books here.