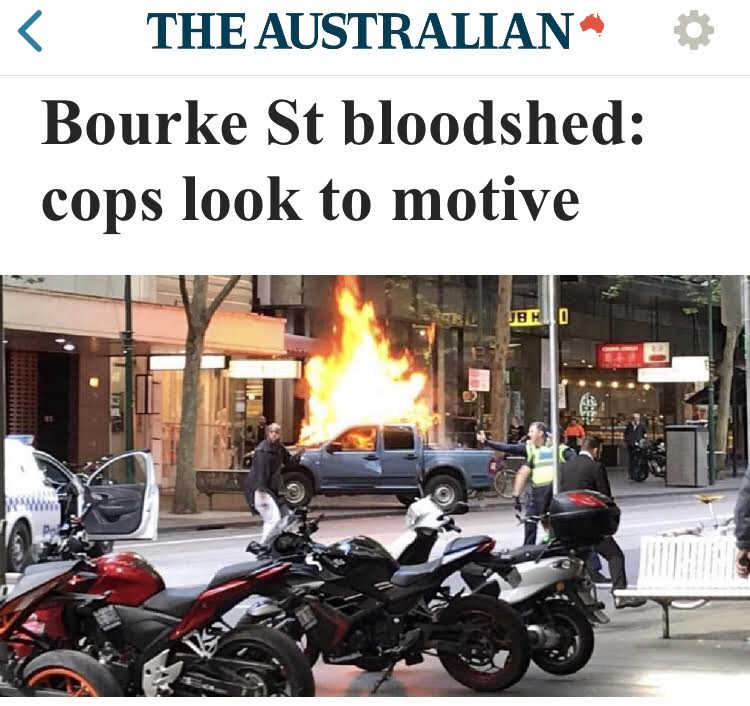 WARNING: THE FOLLOWING ARTICLE CONTAINS GRAPHIC CONTENT
A diversity incident has occurred today in Bourke Street, Melbourne, with a truck of peace apparently bursting into flames, several people being culturally enriched – one fatally – and video appears to show a man of diverse appearance being shot by police in self defence.
WARNING: THE FOLLOWING VIDEO CONTAINS GRAPHIC CONTENT – NAMELY, A MAN BEING SHOT.
Terrorist incident in Melbourne.

Terrorist Incident in Melbourne.

A car exploding in Bourke Street Melbourne, multiple people stabbed, one dead and the attacker shot by police.

Image from Messi Djokovic Twitter account

Posted by Malcolm Roberts on Thursday, 8 November 2018
A police statement, From The Australian:
"Police are investigating an incident in the CBD this afternoon that has left one person deceased.
Police responded to reports of a car on fire on Bourke Street about 4.10pm.
On arrival police were confronted by a man who assaulted police before fleeing on foot.
The man was chased by police and he was observed with a knife which he lunged at police with.
Police shot the man and he has been taken to hospital with serious injuries where he remains under police guard
Three victims have been located, two appear to have been stabbed to the upper body, the third has died at the scene.
The bomb response unit is attending and is conducting safety checks on the vehicle.
It is yet to be determined if the incident is terror related."
Anyone with information is also urged to contact Crime Stoppers on 1800 333 000 or submit a confidential crime report online at www.crimestoppersvic.com.au.
Myer have closed the Christmas Windows for the evening:
Due to the earlier incident in Bourke Street, the Myer Christmas Windows opening event will not proceed this evening as customer safety is our highest priority.

The windows will open for viewing from tomorrow morning at 7am.

Thank you for your understanding. ♥️ #MelbourneNews pic.twitter.com/TBioa3Mfmx

— MYER (@myer) November 9, 2018
There is currently no information available on whether the attacker was enraged by infidels celebrating Christmas, or if he just figured the crowd of Christians would make an easy target.
What XYZ readers should remember is that if we tighten immigration in response to this tragedy, Melbourne will go back to having boring food. We need immigrants because people from other cultures bring fresh ideas which help us to innovate, and if we stop te flow of hundreds of thousands of people into the country our houses will lose value and our economy will collapse because we regulated our industry out of existence and we won't exploit our natural advantage of plentiful coal and uranium. So, we have no choice. We MUST keep the economy going by artificially inflating housing prices and driving the building sector by constantly bringing in new customers.
Thus, diversity incidents are just a part and parcel of living in Melbourne.