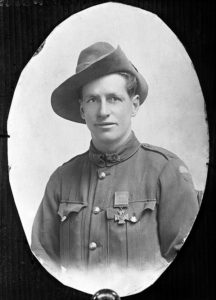 Here is the citation for a Victoria Cross awarded to Private James Park Wood on 26 December 1918:
"For conspicuous bravery and devotion to duty near Le Verguier, north-west of St. Quentin, on the 18th September, 1918, when, with a weak patrol, he attacked and captured a very formidable enemy post, and subsequently, with, two comrades, held the same against heavy enemy counterattacks. Although exposed to heavy fire of all descriptions, he fearlessly jumped on the parapet and opened fire on the attacking enemy, inflicting severe casualties. He kept up his fire and held up the enemy until help arrived, and throughout the operations displayed a splendid example of valour, determination and initiative."
[Private James Park Woods, 48th Australian Infantry Battalion, Citation of the award of the Victoria Cross, Supplement, London Gazette, 26 December 1918, p.15119.]
Lest we forget.