This morning, like most Melburnians still in denial of the fact that deep down, they really are a hipster, I was in a café waiting for my order of a strong latte to be made, when two purple-haired land whales entered. They were both wearing black t-shirts with white writing, and the barista, who appeared to recognise them, asked if they were going to a protest, and it appeared they were.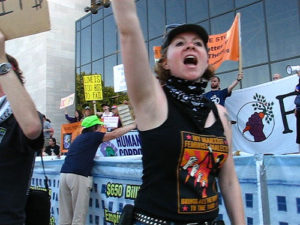 I didn't want to talk to them, but I wanted to know what their t-shirts said, so on my way out I looked at one of their t-shirts. It said something along the lines of, "Would you oppose a world without violence and rape?" or something.
The thing is, as we all know, the feminist approach to "violence and rape" is to lump a whole lot of unrelated actions, such as buying little Tommy a toy truck, going to the football finals, and looking at women, all together into a system of oppression which perpetuates "violence and rape".
What I forgot is that to read her t-shirt, I had to, well, you know. Normally when a young female wear a t-shirt with writing on it, that is the whole point.
The purple-haired land whale physically jolted. Guess I should have thought of that. But, so should she.
Photo by Elvert Barnes