By Jack Tilley
Kevin Rudd has sent shockwaves through the Australian government by radically altering his bid to become UN Secretary General. At a press conference last night, the former Labor leader announced that he was now seeking the position of Prophet. When a stunned journalist asked if he meant "the Prophet of Islam," Rudd piously replied, "There is only one Rudd and Kevin is his prophet."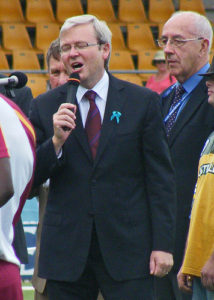 Malcolm Turnbull refused to be drawn on whether he would support Rudd's bid. "While I will certainly discuss the matter with my colleagues," he said, "it might have helped Mr. Rudd's cause if he had at least shown a hint of facial hair, or worn a smock."
Rudd told journalists that the first inkling he had of his prophethood came during his immensely popular reign as Australia's 26th Prime Minister. "I remember meeting the Mufti, once," Rudd said, "and he said to me, 'You da Mufti, Mr. Rudd.' And I said, 'No, you're the Mufti, Mufti.' And he said, 'No, you da the Mufti.' It was most amusing…but it made me think."
Later in his Prime Ministership, Mr. Rudd was known to regularly retreat deep down underneath his desk where he would chew the carpet and emit strange yodellings and ululations. It was hard for his terrified secretaries to make much of it, but they diligently transcribed his wailings and there did emerge a strong theme on what should be done to all infidels and unbelievers.
And the similarities with Islam's first Prophet didn't stop there. Rudd was forced to flee the Mecca of Australian politics after a cynical populace disbelieved and mocked his quasi-mystical ravings, only for the tireless campaigner to return and be reinstated as the spiritual leader of a people now bone-weary of so much in-fighting. Rudd said at the time, in private, "So it was written: Adam, Abraham, Moses, Jesus, Muhammad…Kevin."
Julia Gillard, when asked for her reaction to Rudd's bid for Meccan majesty, let out long anguished howl of, "Allahu Akbar!" before strapping on a rather lumpy vest and making a beeline for Griffith.
In response to further questioning, Rudd emphatically denied he was attempting to use his own nihilistic abyss of despair to build a world-wide death cult. Grinning like the man who got the vegemite, his final words were, "Kevin is great."
Photo by NAPARAZZI