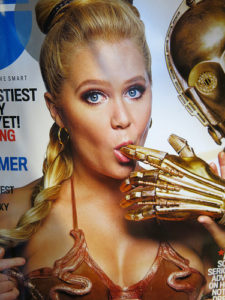 Sensational rumours have been sullying the already sullied dark corners of the Internet over the last couple of days, suggesting that the Disney makers of the new Star Wars movie, due to be released in the second half of 2017, are planning a giant leap towards challenging 'audience bias' by featuring gay hardcore sex. Already lauded with expanding the diversity of the Star Wars universe by breaking the white-male domination of the fantasy-hero role, the producers believe the introduction of gay hardcore sex into what has previously been considered 'family entertainment' will further subvert the archetypal construct of Christian-Patriarchal morality.
Those involved in the Star Wars franchise are keeping their cards very close to their chest, which has only further encouraged wild speculation with regard to who will be involved in the sex scene. An unnamed source has told us we should expect it to break all 'traditional' notions of what a sex scene should be, so any bias against gender, race, species, organic or mechatronic origin, number or age, and all their associated combinations, permutations and fluidities, will be 'utterly, unproblematically deconstructed.'
Having already pushed the release date back to allow time to rewrite the script to give more air-time to the popular Rey, producers likewise feel that progress toward a 'more open and inclusive concept of what sex and gender are' has been increasing at an exponential rate in the community, thus allowing the opportunity to break down barriers previously posed regarding 'what is acceptable to be viewed by minors.'
The Australian Greens have already demanded the movie become mandatory viewing for kindergarten children, while the AFL has promised to 'disembowel' anybody who does not react to the movie with 'sufficient, genuine enthusiasm.'
So whom, or what, do you think will be involved in the new gay hardcore sex scene in the upcoming Star Wars movie? Will Rey and Princess Leia challenge bigotry against incest? (Come on, we all know she is either the daughter of Leia or Luke…) Will Finn and Poe take their budding man-crush to the next level? Will C3PO, R2D2 and BB8 engage in an all-droid orgy in zero gravity? Have you ever wondered what a Wookie erection looks like?
Let us know in the comments section.
It's your XYZ.Photo by torbakhopper