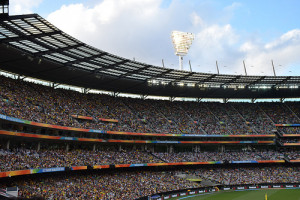 At this very moment, a crowd of over 80 000 people are at the MCG, watching the "derby" between the Melbourne Renegades and Melbourne Stars, in the Australian Big Bash League. If all that means nothing to you, the two Melbourne teams are playing a game of cricket, limited to 20 overs a side, and the crowd is a record for the new competition. It is a bigger crowd than day one of the Boxing Day Test just played at the MCG, although had Australia been facing South Africa, England or India, the test crowd would likely have been bigger.
Rock music is played on loudspeakers between balls. There are hot cheerleaders. The kids love it, and I think the parents do too – the whole thing is over in 3 hours, and it is non-stop entertainment, with fours, sixes, and classic catches happening on a regular basis.
Watching the spectacle from the comfort of my couch, one idea dominates my mind:
20 over a side cricket should become the only form of One Day Cricket.
There is no point in having two forms of One Day Cricket. T20 was brought in to revitalise one day cricket. Crowds were getting smaller, and administrators consistently failed to solve the problem of what to do with the middle period, between overs 20-40, when the games seemed to move along too slowly – regardless of whatever "innovation" they introduced to increase the run-rate during this middle period, batsmen insisted on the infuriating habit of protecting their wicket, so they would have more in reserve for the last ten overs – ie, it was a little too much like a Test match.
The new format solves this problem. With only twenty overs to play with, batting teams have to go for it from the very first ball, and it is paying off in spades with exciting cricket and big crowds.
What is interesting is that the criticisms of T20, (and this is coming from someone who used to hate T20,) are the same criticisms we used to make of 50 over cricket: it favours the bat too much over the ball; it is too artificial, which, because of the focus on quick run scoring, makes the statistics essentially meaningless; with the focus on entertainment and excitement, it is too far removed from the purity of Test cricket.
Meanwhile, the arguments in favour of retaining the 50 over format are starting to resemble the arguments in favour of Test cricket: the odds are more even between bat and ball, with batsmen required to build an innings in order to make maximum use of the allotted overs.
The fact is, 50 over cricket is now stuck in no man's land. If it is supposed to be a more "pure" form of One Day cricket, then it is trying to be something which it was never intended to be. The whole point of 50 over cricket was that it was deliberately designed to be a more entertaining form of cricket. For a few decades it fulfilled this role brilliantly, revitalising the game and bringing in millions of new fans worldwide. But if T20 has been brought in to be a more exciting form of One Day cricket, then it makes no sense to keep the older, 50 over format which no longer fulfils the role for which it was originally designed.
Seriously, it takes a whole day to play. T20 is over in three hours. When administrators reduced the length of a Test match from over a week to its current five day format, they didn't keep the old. Likewise when they reduced the length of One Day cricket from 60 to 50 overs.
Regarding whether T20 is still cricket, I think it is. Some caution with the bat is still necessary, lest you be all out in five overs. Inventiveness with the ball is ever more important as fielding sides scurry to defend totals, and good fielding is paramount. You really have to earn a century or a five wicket haul in T20 cricket. From this perspective, you could argue that the statistics are more relevant than the 50 over version.
Fears that T20 threatens the health of Test cricket are misplaced. What is threatening Test cricket currently is that there is just too much cricket, too many forms crowding out the pure format, and causing confusion in and degrading the techniques of Test cricketers. If 50 over cricket is ditched, this will open up space in the calendar for more Test cricket, for the players, the TV networks, and the fans.  Regarding records, I propose to amalgamate all forms of One Day cricket, whether it is 60 overs, 50 overs, or 20, into one, treat it as one, because essentially, it is.
T20 cricket is the logical next step in the evolution of One Day cricket. It is thus time to let the old, 50 over form, go.
Photo by Tourism.Victoria