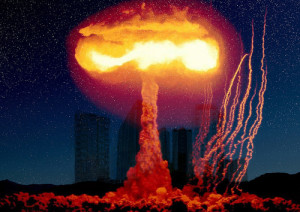 US "President" Barack Obama stated in a press conference today that he welcomes North Korea's testing of a nuclear weapon, as it will "help strengthen anti-colonial efforts in the North East Asia region." Obama went on to say that he considered North Korean leader Kim Jong Un to be "a good guy," whose culture had played "an instrumental role in the foundation of America."
In an embarrassing gaff which was thankfully ignored by most US media outlets. Obama had initially condemned the test, when he at first assumed that it had been conducted by close US ally South Korea, and not mortal US enemy North Korea. A tweet from the "President" which read "This act of provocation by the capitalist exploiters on the Korean peninsula will meet with massive retribution'" was quickly removed from the internet.
In related news, the UN Commission on Human Rights responded to the North Korean Test by issuing a resolution condemning Israel.
It's your XYZ.
Photo by Maxwell Hamilton