You've guessed it –
Osama bin Laden.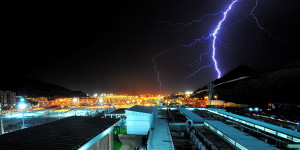 According to the American media site 'Young Cons', the crane that happened to fall on the Meccan mosque on the 14th anniversary of September 11 is currently leased and is (was) under operation by the the bin Laden family.
The family has numerous construction contracts in the Saudi kingdom and are heading up the expansion of the 'Grand Mosque'.
The crane, operated by the bin Laden family was struck by lightening, killing over 100 worshipers…
Spooky.
Young Cons: Crane that Fell on Mecca's Grand Mosque Killing 101 Belongs to Bin Laden Family