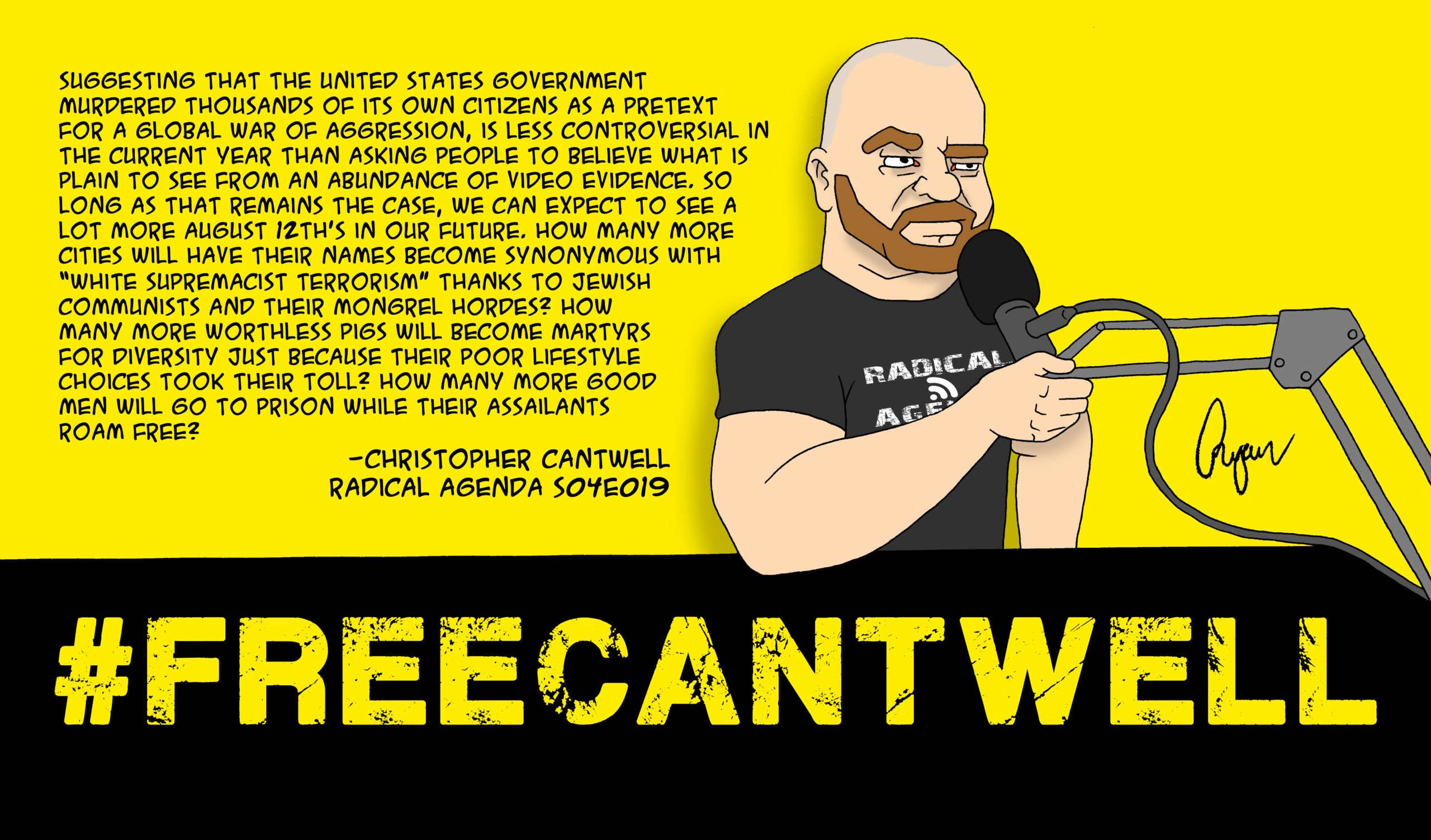 Christopher Cantwell, the consummate enemy of the kosher kleptocratic kritarchy seeking occidental destruction, has been found guilty of "extortion and threatening to injure property or reputation" of a bloke who was affiliated with a fed troll (aka "Vic Mackey") who defaced his website with homosexual / beastiality porn and a fake open letter to an FBI agent involved in the Charlottesville "investigation".
As outlined by Ian Freeman at Free Keene, Benjamin Lambert (aka "CheddarMane") supposedly got his jimmies rustled when Cantwell communicated to him online that he'd "fuck" his wife if he didn't give up information on Vic Mackey. Mackey has levelled an extensive online campaign of malicious slander against Cantwell in order to injure his businesses after the malicious website attack.
The FBI, who regularly run these malicious trolls in the vein of Vic Mackey, exploited Cantwell's colorful shitpost tier communication to construct a conspiracy of interstate "threat" to rape. Seriously, fuck the FBI, it's time to abolish these kosher political police!
According to the SPLC affiliated left-wing online rag The Informant:
The group organizing the lawsuit, Integrity First for America, hailed Cantwell's conviction.
"It's particularly powerful that this verdict was handed down on Yom Kippur — the Jewish day of atonement — against a neo-Nazi defendant who has made antisemitism central to his violence," said the organization's executive director, Amy Spitalnick. "But justice has not yet been fully served when it comes to Cantwell. Our plaintiffs won't back down from holding him accountable for the violence he brought to Charlottesville three years ago."
Funny how this Jewish holiday celebrating another Jewish led genocide translates into "atonement" for these people.
Cantwell who has been cherished source of insight to your XYZ has clearly been targeted for his critiques of Jews. He faces 22 years at sentencing.
Food For Thought.
To obtain your FREE copy of Trading HEMP for Hitler audiobook (as read by Political Pundit and Radical Agenda host Christopher Cantwell) or e-mail us at A481Designs_Publications@outlook.com.