Last week a Facebook page was set up for Fraser Anning's Conservative National Party.  The proposed party is currently going through the submission phase with the Australian Electoral Commission.

The XYZ published a brief article in which we linked to the Party Manifesto published on said Facebook page, and the page went from zero to nearly 10,000 likes in a week.
Now, the Fraser Anning's Conservative National Party Facebook Page has disappeared: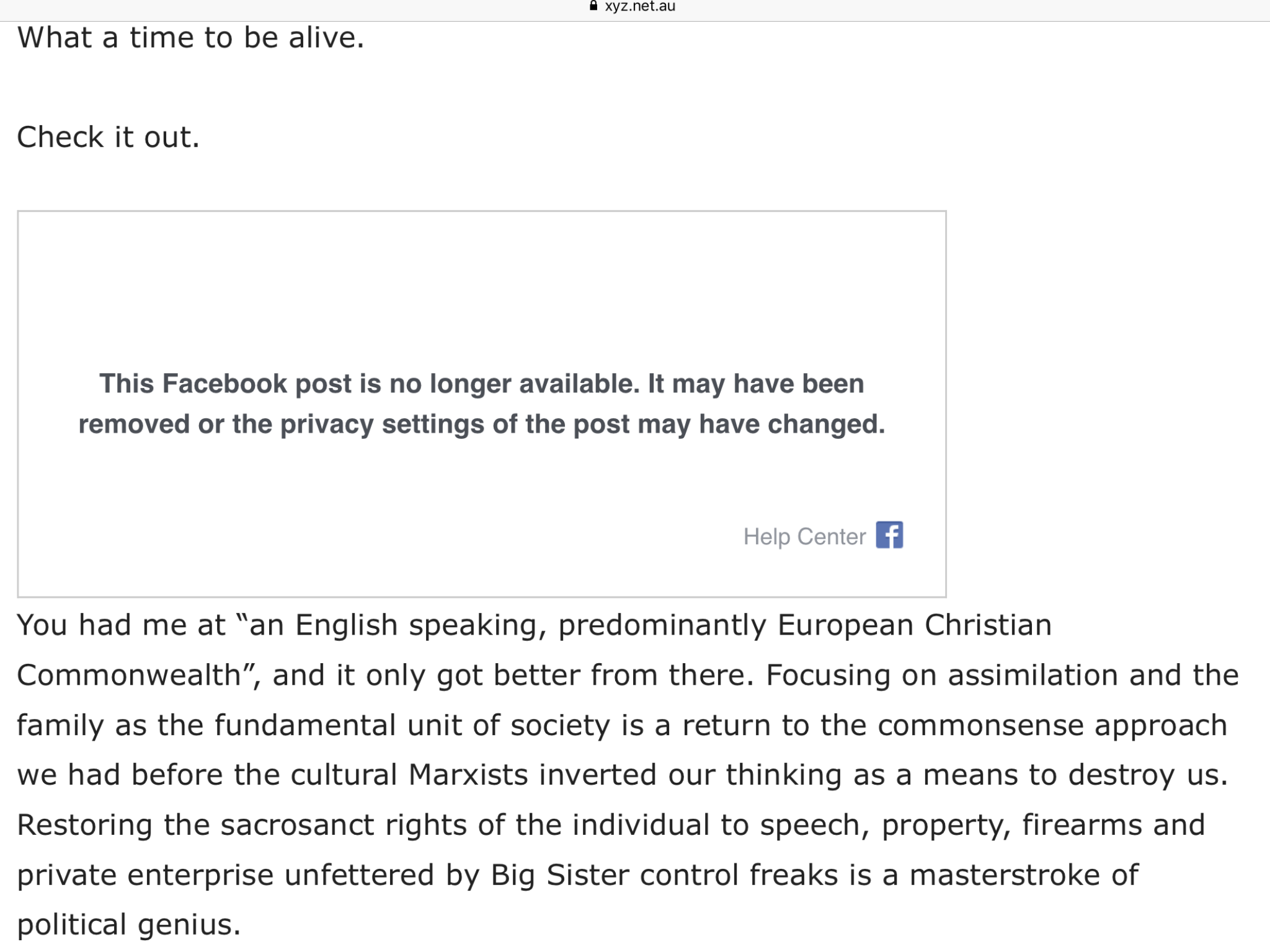 It also does not appear in a Facebook search: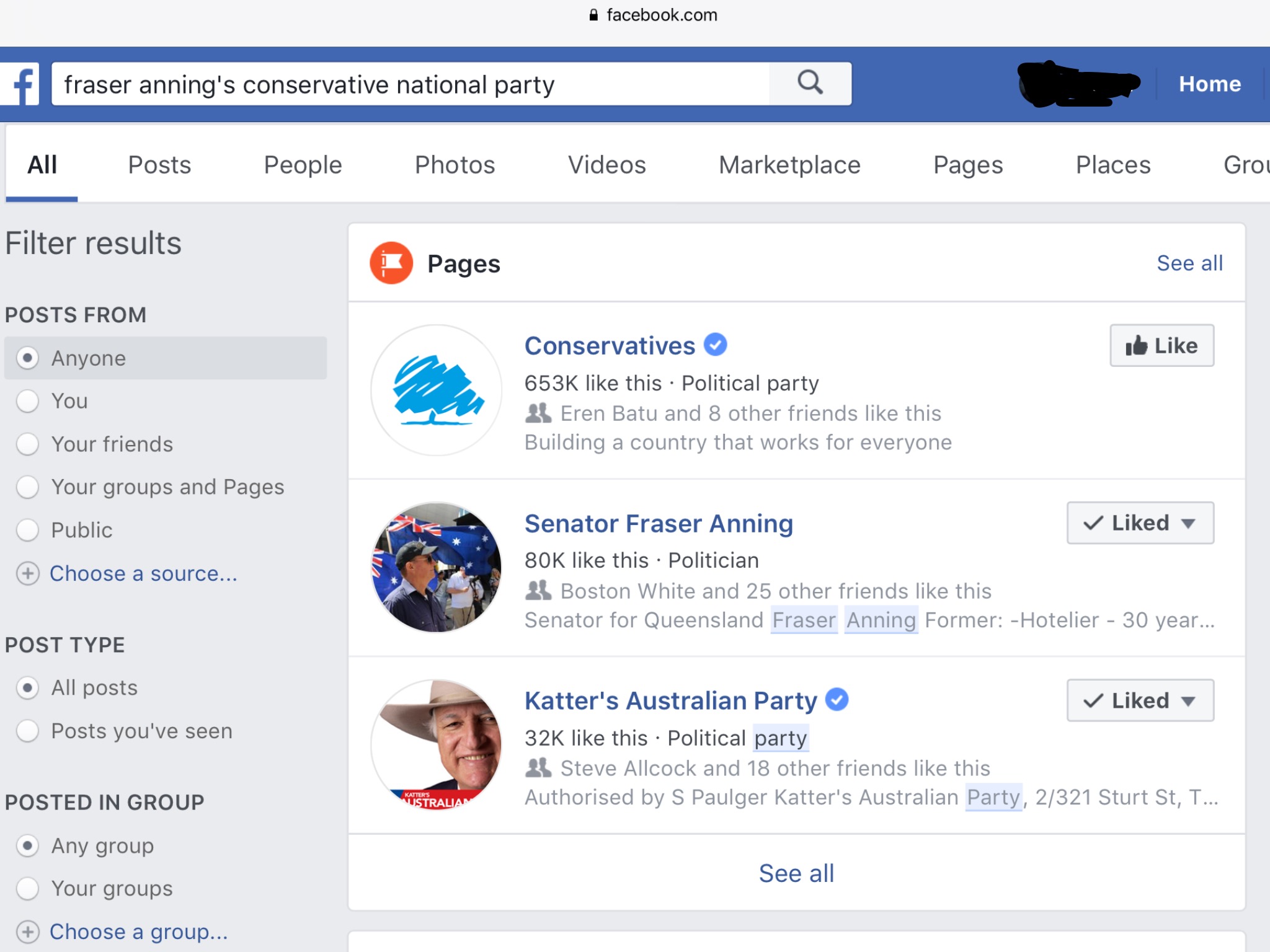 The XYZ has contacted Facebook to confirm whether or not the page has been deliberately removed by Facebook, however we are yet to receive a reply. A spokesman from Senator Anning's office said the following on the matter:
"Once again Facebook is staying true to its modus operandi: censor all conservative viewpoints or opinions that are unpalatable to the left."
"This is the second time Senator Anning has had a Facebook page deleted, and once again Mr Zuckerberg is saying to the Australian public I will decide what you can and cannot listen to."
"As Senator Anning highlighted last time his page was removed  a fundamental tenet of any liberal democracy is free speech. Supressing someone's view or opinion just because you may disagree with them amounts to nothing more than rank socialism."
Facebook set a precedent last September when it removed Senator Fraser Anning's official page – he became the first elected representative in a Western democracy to have their page deliberately unpublished by Facebook. If Facebook has indeed removed his Party page, it would continue Facebook's pattern of censorship against conservative activists.
As Matty's Modern Life has pointed out:
"If so-called "platforms" like Facebook and Twitter want to dictate what opinions are or are not acceptable they need to take full responsibility for everything posted there. Silencing conservatives, nationalists and other non-Leftists but allowing far-Left terrorist organisations, like Antifa, is an explicit endorsement of those organisations.
"Facebook need to be liable for the actions of far-Left pages or stop censoring people, and that includes algorithmically.
"You are either a publisher or a platform. You cannot be both."
If Facebook will not provide a free and unfettered platform for all political voices, it must be forced to by government regulation.
This will eventually happen. Donald Trump is currently starving out the leftist swamp via the government shutdown, in order to get funding to build a wall to defend America's borders. Once this battle is won, he will likely turn his attention to pressuring the globalists who own and run Big Social Media to stop censoring their opponents – ie, us.
Once he does this, we will own the internet.
Until then, people who love their country and their people in the US, Europe and Australia can still find ways to communicate, organise and amplify our message. The XYZ is on alternative social media platforms Gab and Minds, and we even communicate with our readers the old fashioned way – via email. We are now sending a newsletter each weekend. You can sign up to receive this by following the link to the right hand side of our homepage.
And of course, there is always the pub.
It's your XYZ.