Editor: In news which we are totally not making up, the Diversity Council of Australia actually believes it has found a more effective way to brainwash people into swallowing their SJW nonsense:
"Nudging is based on behavioural economics. It's a hack, if you will. And focuses on changing the environment to outsmart and interrupt our unconscious biases, rather than just relying on individuals to do this themselves. So at work, it involves tweaking and making adjustments to office organisational policies, processes and practices. Nudging people, rather than just training them, towards more inclusive choices.
"The bottom line is, it can be a lot easier just to de-bias the environment rather than take on the might of the human mind, with all its complexities and implicit biases. Research shows that training has mixed results and limited success."
In news that we may or may not be making up, Qantas has announced that they are fully on board.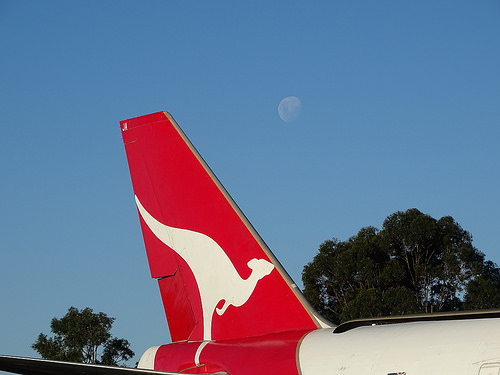 Islamodacity
Our star reporter Mr Islam O' Dacity was the first to interview Qantas CEO Allen Rejoice today about the Divercity Council's latest plan to re program the human mind. According to Mr Rejoice:
"We tried the previous recommended training methods by the Diversity Council to get rid of the "unconscious bias" in our employees and customers, which included water torture and shock wave therapy, but we were unsuccessful.
"As you can imagine, we are really excited to try this new method called "Inclusion Nudges" even though I personally thought "Inclusion Uppercuts" would be more appropriate, where we punch people in the face and throw them out of the plane if they don't play our inclusion and diversity game."
At this point, Mr Rejoice stopped for a moment and asked "Oh could you please take that last sentence off the record, I didn't realise I was saying that out loud." Mr Islam O' Dacity responded with a smile and said "Sure, while winking to his assistant"…
Mr Rejoice continued:
"We are pleased to announce that on our next Qantas Flight QF LGBTIQ++ we will be giving all our adult passengers a little "Inclusion Showbag", which will contain some anal lube, a rainbow flag and an inflatable donut comfort cushion.
"We have not yet finalised the children's "Inclusion Nudge" but it too will probably be a little showbag that is gender neutral, and have a genderbread cookie with a penis that the children can snap off and on depending on what gender they feel like being on the day."
Mr Rejoice then gave Mr Islam O' Dacity his own little inclusion nudge by pinching him on the bum as they left the room.
It's your XYZ.
You can visit Islamodacity at Facebook.
Photo by FotoSleuth