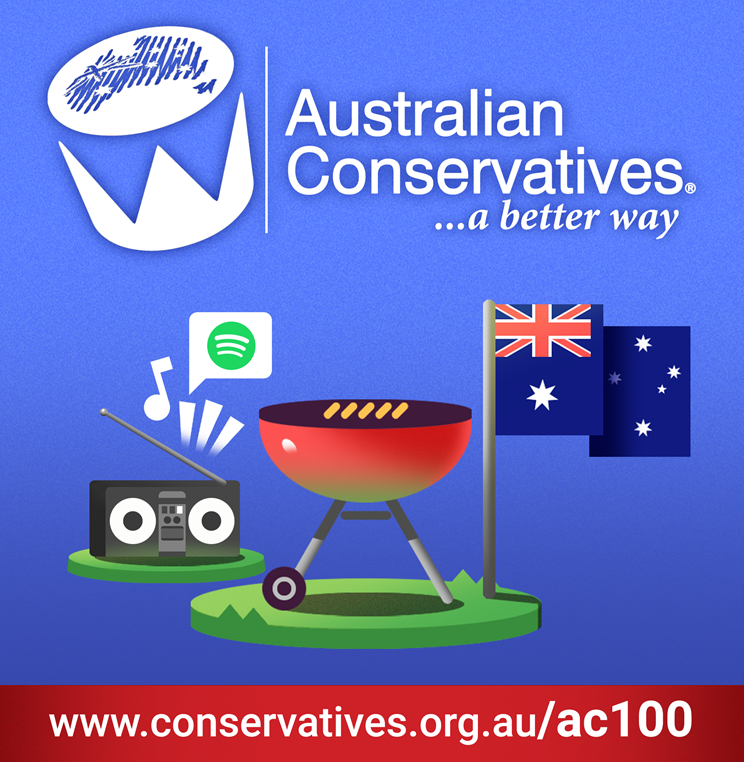 The Culture War in Australia is at a crucial stage, with combatants in The Battle for Australia Day squaring off. When the future half-breed grandchildren of Australia's musos (if they even have any grandchildren) ask in the years to come, "Grandpa, what did you do in the Culture War?" Aussie musos will be able to tell them, "I was a traitor to my country and I earned the hatred of my people".
Cory Bernardi has cleverly taken the Mick out of Communist radio station Triple J by holding his own Australia Day countdown, the #AC100:
"Australian Conservatives have launched their own song list to listen to on Australia Day after Triple J dumped our national date of celebration for their 'Hottest 100'.
"Writing yesterday afternoon in his first Weekly Dose of Common Sense for 2018, Australian Conservatives founder and leader, senator Cory Bernardi said Triple J's decision was "complete BS and needs to be called out as such".
"Senator Bernardi went on to say: "If you like Australian music and want to celebrate Australia Day with some great home-grown tracks, the team at Australian Conservatives have put together the AC100 playlist on Spotify. It's a collection of some of our favourite Aussie music to help you celebrate Australia Day."
"You can access the play list and vote for your favourites at www.conservatives.org.au/ac100".
Anti-Australian musician Darren Hayes got upset:
Hi @CoryBernadi and @AuConservatives. I do not want to be associated with you, your party or your views. Remove my music from this stunt or expect contact from my publisher @SonyATV https://t.co/fBmVisypLz

— Darren Hayes (@darrenhayes) January 17, 2018
The Hilltop Hoods were emotional:
Go fuck yourself @corybernardi.

— Hilltop Hoods (@hilltophoods) January 17, 2018
And Spotify deemed the #AC100 "offensive content":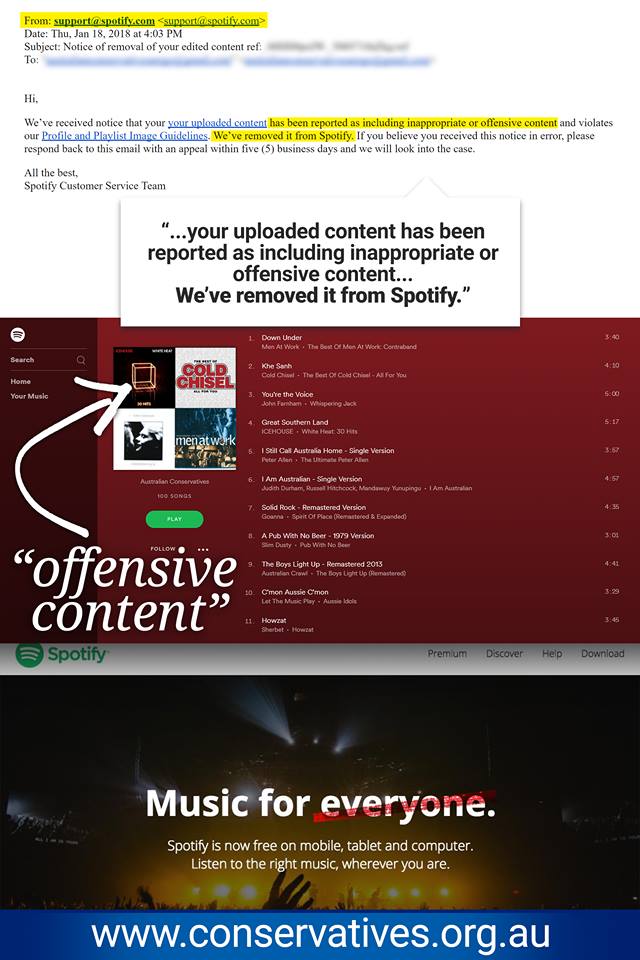 Cory Bernardi has rightly called out the insanity of all this:
.@corybernardi: Let me point out the hypocrisy- musicians will take your money for a concert and let you buy their album. But they won't let a conservative like me use their music. #SummerEdition pic.twitter.com/9gqX1oCBE3

— Sky News Australia (@SkyNewsAust) January 18, 2018
I can assure anyone who reads this that Australian musicians are some of the worst people in the world. I know this from personal experience. They are the inheritors of thousands of years of cultural heritage which peaked in Europe in the 19th century, and in the United States and Australia in the 1980's, but they are pissing it all away in an orgy of degeneracy. The only thing they excel at is selling out their own country.
They hate Australia and everything it stands for, and they are going to find out very quickly that ordinary Australians hate them, too.
Sydney residents may rue the imposition of the lockout laws, but it has had one benefit for them – many Sydney musicians moved to Melbourne as a result of its negative impact on Sydney's nightlife, and they took their slovenly ways with them. This could one day benefit Australia, because when Kim Jong-un finally nukes Melbourne, all the scum will be in the one spot.
XYZ Quote of the Day.