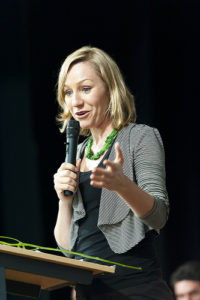 It is with great pleasure that The XYZ can announce, in the spirit of gender equality to which it always strives, its second Wally of the Week, named after Everybody's Favourite Muslim Apologist, Waleed Aly (TM), within the space of a week.
Barely days after the now former Greens Federal Senator Scott Ludlam was forced to resign after discovering he possessed dual citizenship, the now former Greens Federal Senator Larissa Waters has been forced to resign for exactly the same reason.
Before this latest bungle, the part-Canadian was previously best known for fretting over Barbie's reinforcement of gender stereotypes, despite the fact that she breastfed in parliament.
The Wally has to go to the entire Greens Party as well, given this is the second Greens Senator in a week to resign over dual citizenship. One might suggest that this is not unsurprising for a party which believes in open borders, and believes that race is a social construct..
It's your XYZ.
Photo by Jeremy Buckingham MLC