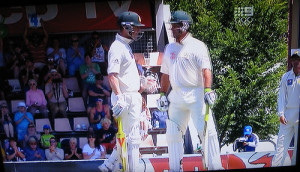 The XYZ has obtained the following transcript of a discussion the Aussie cricketers had at lunch at Bellerive today:
Steve Smith: "Nice work boys. And Geez Voges, don't take all day."
Adam Voges: "Cheers skip."
Boof: "Yeah well batted. It's not five day test cricket, but you know, play to the conditions."
Smith: "So, 4/583 at lunch on the second day.. If we bat another session, we could have 700. I don't think we need that much."
Boof: "There is a hint of rain about. I reckon the sooner you declare, the better."
Smith: "But even with a bit of rain, we could finish this mob off with a couple of days to spare. Their bowling was supposed to be their strength."
Boof: True.
Smith: "How about we give Voges a chance to get a triple century. That is a big deal. We could declare after that?"
Voges: "To be honest mate, I don't think it deserves a triple ton. If I am gonna get a triple, I'd rather it be against the South Africans, or in swinging conditions in England, or a dusty pitch in India. If I get a triple century here, it could be the highest score I ever make, and people are always gonna ask, "Who was it against"? And I am gonna be like, "The West Indies in Hobart." And they're gonna be like, "Oh. Cool…" To be honest, bugger the sake of the team. I'd rather you declare to STOP me from getting a triple century."
Smith: "Fair call Adam. Let's have a bowl, then."
It's your XYZ.Photo by RubyGoes