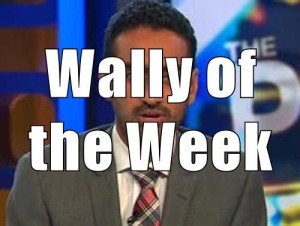 The XYZ is proud to anoint Pope Francis as its Wally of the Week, named after "Everybody's Favourite Muslim Apologist, Waleed Aly" (TM).
Take this marvellous little bit of doublespeak from the Pope as he was interviewed on his flight from Cuba to America, which we have quoted directly from an article in the Washington Post:
""I am certain I have never said anything more than what is in the social doctrine of the Church," Francis said, according to Catholic News Service. "I follow the Church and in this I do not think I am wrong.
"Maybe I have given an impression of being a little bit to the left," the Pope conceded. "But if they want me to recite the creed, I can."
People have all sorts of reasons to think "he's communist or he's not communist," the Pope said."
The Pope then went on to deliver a lecture to the a joint sitting of Congress in Washington, in which, to quote XYZ resident scribe, Boethius, he covered the following ground:
"The European migrant crisis, climate change, the death penalty, the human rights movement, climate change, the founder of the Catholic worker movement, the (re)distribution of wealth, climate change, and finally the importance of the family… A certain Jesus of Nazareth, however, did not merit any direct mention.."
At the risk of appearing apocryphal, allow us to paraphrase the Pope:
"I'm not a communist, but…"
(Credit to Vic Timms.)
XYZ.