Say what you like about The Honourable Bronwyn Bishop (the 29th Speaker of the Australian House of Representatives) but I think she is absolutely brilliant.
At the moment everyone is wanting to slam the Speaker for what she has even admitted was an "error of judgement". The initial taxpayer funded chartered helicopter flights from Melbourne to Geelong and back to attend a state Liberal party fundraiser on Wednesday the 5th, November 2014 should be put into perspective.
Bronwyn Bishop will be paying back the $5,227.27 with an added $1,307 penalty for any inconvenience.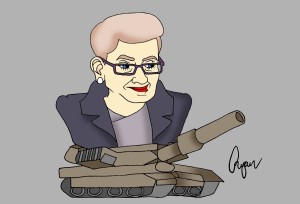 Frankly it wouldn't phase me in the least if this former Minister for Defence Industry, Science and Personnel took a chartered tank ride to and from a function if she were prepared to reimburse the public purse with an added penalty (and I sincerely mean that).
Not even the rabble rousers on the opposition benches calling for the Speaker's head have been immune from abusing travel expenses. Bill Shorten the leader of the opposition had billed tax-payers $1189 for a trip from Melbourne to Sydney on October 9, 2013, for a joint fundraiser with then Labor leadership rival Anthony Albanese.
Bill Shorten also failed to declare a $40,000 donation from a labour-hire company to pay his campaign director's wages back in 2007 (and only declared it days before appearing before a Royal Commission hearing into union corruption earlier this month).
Food for thought.