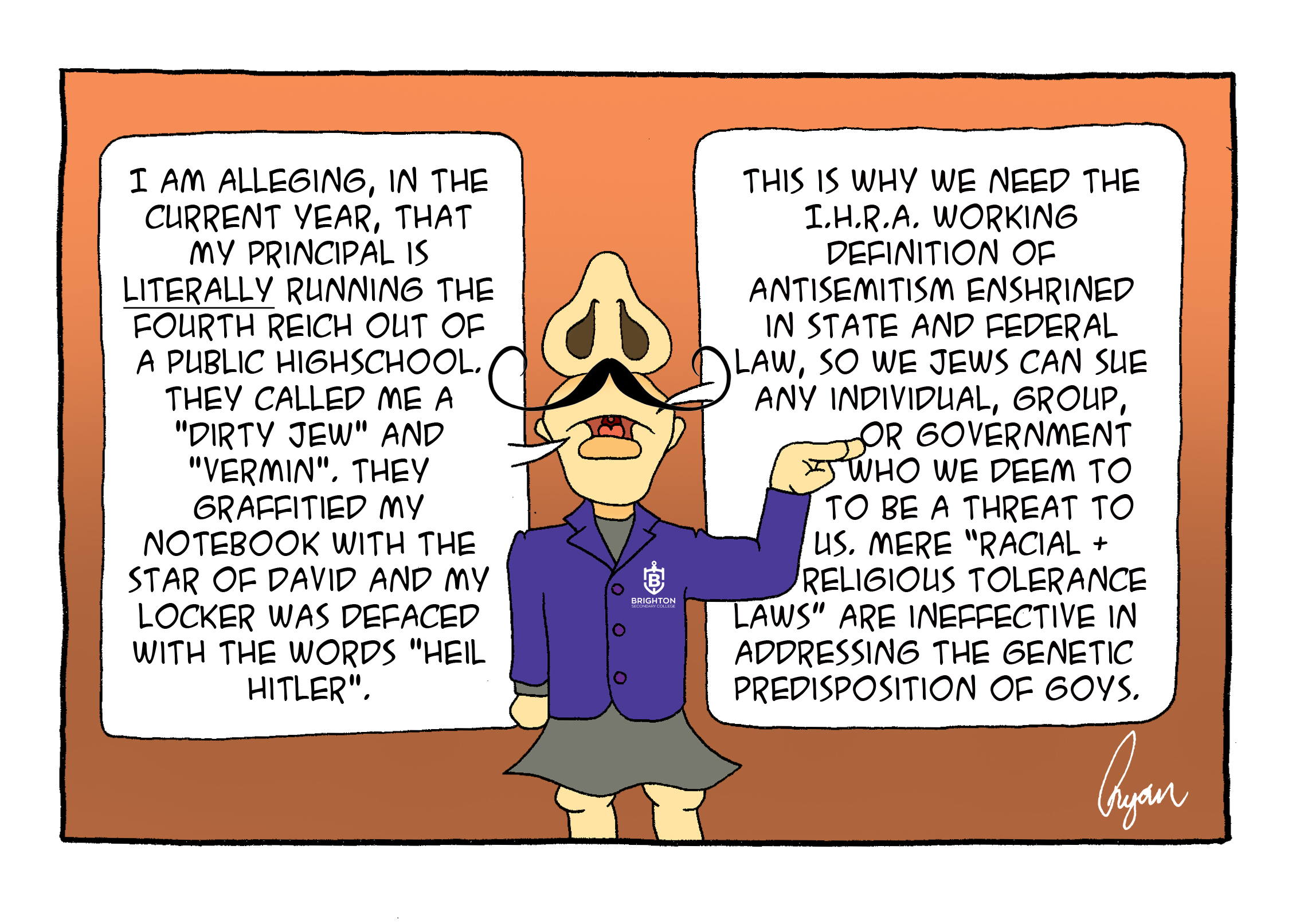 Yesterday morning I had a visit from Victoria police, who graciously were returning my property (i.e. electronic devices, art portfolios, ect) following an investigation commenced back at the end of 2020.
I'd conveyed to the officers that like my intentions back in mid 2017 I'd be looking to roll back on some of my more provocative speech and resort to reporting on grug brained tabloid clickbait like Johnny Depp vs. Amber Heard.
Then a couple of hours later this story was mass syndicated throughout the MSN media aggregator sites

From The Canberra Times
Liam Arnold-Levy was practising for his bar mitzvah when he decided to wear a kippah to school to show that he was proud of his Jewish heritage.
But within the first hour of walking into his year seven class at Brighton Secondary College he says "it was like target practice".
Fellow students tore the kippah from his head and threw it in the bin.
His notebook was graffitied with the Star of David and his locker defaced with the words "Heil Hitler".
He had coins thrown of him and was called names including "dirty Jew" and "vermin".
"The harassment happened every day. It was humiliating," he told the Federal Court in Melbourne on Wednesday.
Feeling frightened and distraught, Mr Arnold-Levy, now aged 21, complained several times to the school's administration office.
"They wrote down what I told them and said they'd give it to the principal. Nothing ever happened," he said.
"I can't explain the emotion I felt when I'd gone to ask for help from the school, to make the environment better for me, and no difference was made."
Mr Arnold-Levy is one of five former students suing Brighton Secondary College, alleging they were subjected to years of anti-Semitic bullying, discrimination and negligence.
The State of Victoria is also being sued as the authority in control of the school. Principal Richard Minack and teachers Paul Varney and Demi Flessa are also named in the suit.
All defendants have denied the allegations brought against them.
It's also been reported that the school was "littered" with swastika graffiti. Gee I wonder where that could possibly stem from?
Now some people might allege these kippah wearing students are bald-faced liars who are allegedly committing perjury before a Federal court. Some people might also allege that Anti-Defamation Commission Chairman Dvir Abramovich is just waiting for said people to publicly express such claims so he can civilly sue them into ruin.
This is what happens when you enshrine the IHRA working definition of Antisemitism into law.
Food For Thought.
To download a free PDF ebooklet of Rather Radical and Vril Vibrations or Trading HEMP for Hitler visit archive.org