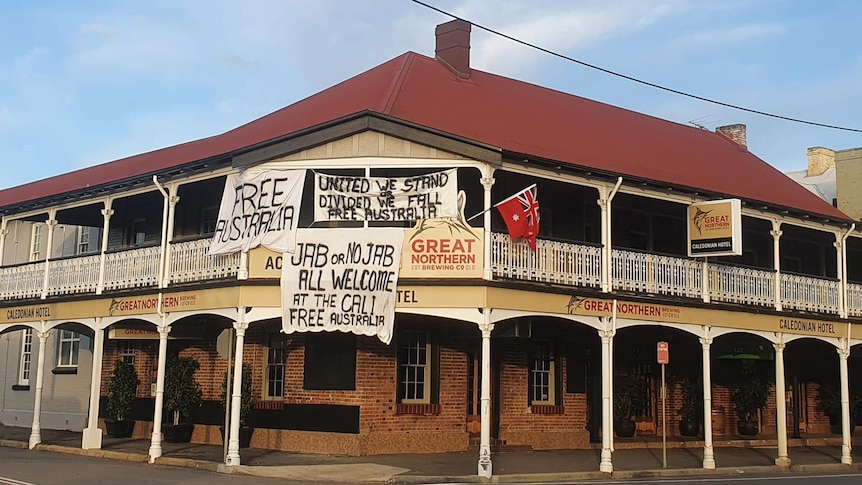 This is the very definition of un-Australian:
The New Caledonian Hotel Singleton has been ordered to close its doors by police after "repeated and continued" public health order breaches.
The self-described "Freedom Hotel" is located in the Hunter Valley and has attracted publicity for its ongoing defiance of COVID-19 rules.
Police Commissioner Mick Fuller revealed in a statement the pub located on George Street in Singleton would be forced to close.
He said the venue had welcomed the unvaccinated and was being shut down due to "alleged repeated breaches of the public health orders".
"The closure order follows a number of previous interactions with the licensee – a 57-year-old man – due to repeated and continued breaches."
The man reportedly did not take steps to prevent unvaccinated patrons from being served at the premises.
"Police have attended the venue numerous times in the past week and issued the licensee three Penalty Infringement Notices and staff members three PINs for breaching the public health orders," Mr Fuller said.
From 12.00am on Saturday until Tuesday October 19 the venue will be subject to the compulsory shut down order.
I didn't particularly care last week when a photo emerged of NSW Premier Dominic Perrottet drinking beer standing up.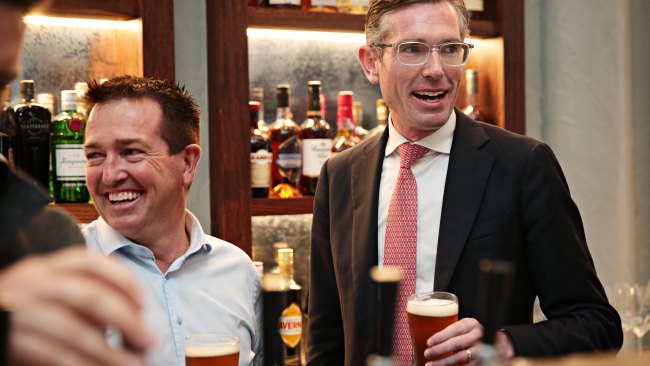 Apparently it is against the law because the virus knows if you're drinking beer standing up rather than drinking beer sitting down and if you drink beer standing up Covid will kill your grandma. If they are going to shut down a pub for refusing to discriminate against the unvaccinated, then this matters. Perrottet is a hypocrite who virtue signals to God fearing Aussies by knocking up his missus for the seventh time while allowing Covid Tyranny to rule his state unchecked.
Fine him.
It's great to see the pub owner is defiant. He wrote the following on Facebook:
"Are we enjoying the show people… The Cali or as referred to now by many as the FREEDOM HOTEL stands with the millions standing up for Freedom.
"Freedom of Choice. Freedom of Movement. Freedom of Speech. Freedom to Work. Freedom to Provide. Freedom to Travel. Freedom of Expression. And every other freedom we were born with which are our god given rights.
"The Cali never has and never will support segregation or discrimination. The Cali will always forever and a day welcome all. United We Stand and FREE AUSTRALIA."
Yes.
My analysis from several days ago still stands. The NSW Regime is making an example of the New Caledonian Hotel because the owner publicly stated that they would not discriminate against the unvaccinated, and they got a lot of attention for it. In shutting down the pub they hope to deter others.
However, the fact remains that they simply do not have the resources to police every single business in Australia. They have made business owners responsible for enforcing vaccine segregation. This means that they require the cooperation of the public, or to put it more accurately, the submission of the public to make vaccine passports work.
Victoria's CHO Brett Sutton has basically said that if they can't get people to enforce the vaccine mandate they will scrap it.
Did she say "pushback"?

Yes, they are watching our behaviour to see what they can get away with, just as @CraigKellyMP said yesterday.

It's about control…how much control will they get? pic.twitter.com/QAck4QadPb

— ValGlass2.0 (@AussieVal10) October 12, 2021
This is not a one off blunder. He openly states that they are running behavioural analysis:
It was about control from day 1.

They have watch us like a virus under a microscope. pic.twitter.com/R62VpxWtXH

— ValGlass2.0 (@AussieVal10) October 17, 2021
"I know there's been commentary on "has it just fallen away in recent weeks?" That's not the picture from our kind of Google Maps mobility data and various other behavioural survey data."
Globalists are literally running an experiment on Australians to see if they can coerce millions of people into enforcing their own enslavement upon each other.
It is a given that some business owners will be punished for not following the rules, and the Lying Press will hype up the stories in order to scare Aussies into compliance. If enough business owners and business patrons refuse to be cowed by this, the entire vaccine passport system will collapse.
Subscribe to XYZ on Telegram, Bitchute, Twitter and Gab.