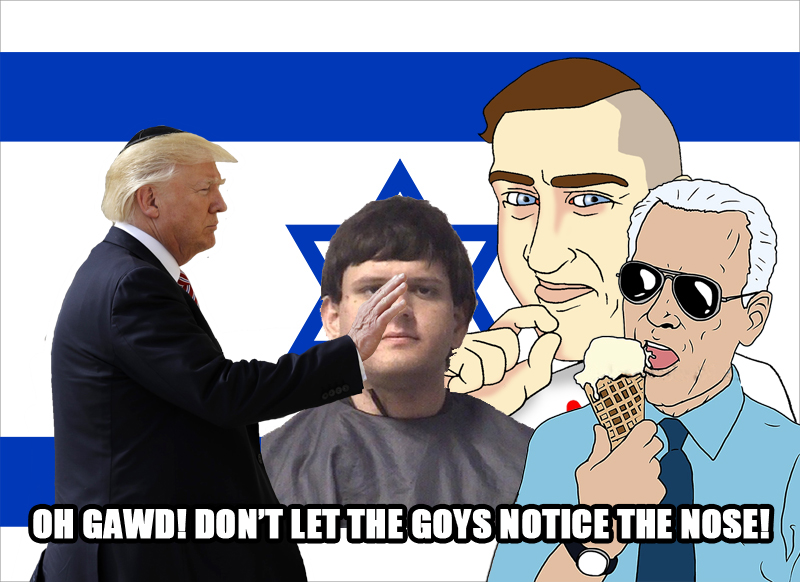 Those who've been tuned into politics over the last couple of years are probably well acquainted with the sorts of kosher certified terrorism providing the Zionist Occupied system a necessary pretext for more power. This power is intently utilised by the system to suppress Whiteness and thusly frame Whites as villains.
It doesn't even require a White person to have an execution checklist with Biden's name on it, an AR-15 rifle, explosives, bomb-making books, half a million in cash, and a bunch of child pornography to make this argument stick, as is the case of Alexander Hillel Treisman.

From the Jewish Telegraphic Agency
The 19-year-old man alleged to have plotted to kill Joe Biden was the son of a prominent Jewish attorney who helped broker the first meeting between a U.S. president and the Dalai Lama.
News broke Friday about the May arrest of Alexander Hillel Treisman, a teenager who a court document says had purchased an automatic rifle and traveled to multiple states, and who allegedly had a checklist in his car whose final item read "execute." Treisman has also been charged with three counts of child pornography, according to court documents that were obtained this week by local North Carolina station WBTV and reported on Friday in The Washington Post.
Treisman is the son of a Jewish human rights activist and one-time Senate candidate in New Mexico. Eric Treisman was known for his work with Tibetan immigrants and was once called an "Oscar Schindler for Tibetans," an allusion to the German famous for saving more than 1000 Jews during the Holocaust. Eric Treisman died in 2009, days after finalizing his divorce from Alexander Treisman's mother.
Just to be clear, this privileged Jew was arrested way back in May and is only now being reported on after the internet was sanitised with respect to Treisman's family background.
According to the Daily Mail Treisman was a fan of Brenton Tarrant and liked to fantasize about raping children:
"On April 3, 2020 he made an audio recording narrating 'the perfect porn video' where he described killing two parents with a shotgun then raping and impregnating their young daughter."
Treisman's lawyer appears to be flirting with the notion of mental illness as a defence, but Treisman apparently has pushed against the strategy, imagine my shock.
Rest assured though this will not prevent the ADL, an affluent and influential Zionist Jewish private intelligence agency, defining Treisman's gayop as another questionable entry in their "White Supremacist terrorism" database statistics.
Food For Thought.
To obtain your FREE copy of Trading HEMP for Hitler audiobook (as read by Political Pundit and Radical Agenda host Christopher Cantwell) or e-mail us at A481Designs_Publications@outlook.com.