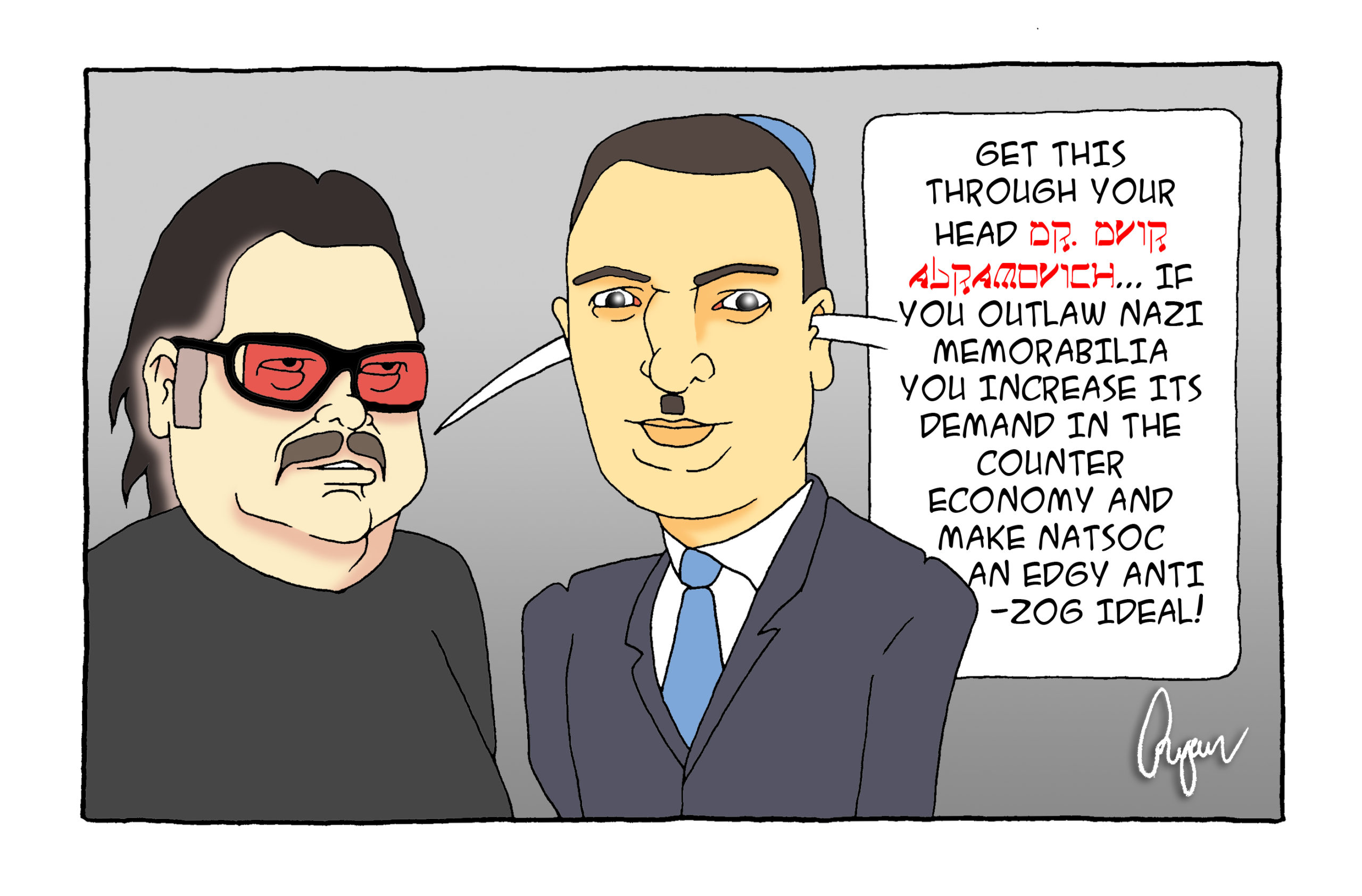 Following on from a previous Food For Thought, Dr. Dvir Abramovich is back in the news spruiking his Semitism for all the sundry to hear.

From News.com.au
A social media post has been labelled "vicious" and "nasty" after a photo of Hitler was placed next to one of a prominent Jewish community leader.
The Facebook post was uploaded on Saturday by Perth-based auction house JB Military Antiques along with an article that raised concerns over a large amount of Nazi memorabilia that it had listed for sale.
A photo of Anti-Defamation Commission chairman and Jewish community leader Dr Dvir Abramovich, who had condemned the auction of at least 23 Nazi items and more than 130 other German World War II military artefacts, was posted alongside one of Hitler…
"I know that this type of poisonous trolling is the price I have to pay in challenging the sale of Nazi memorabilia.
"But no amount of online harassment and intimidation will shout me down or deter me from doing my job of calling out this lurid trade.
"While Australians may disagree on some issues, they will stand united in denouncing this kind of vicious, outrageous behaviour which seeks to target individuals and drag civilised debate into the mud."
Oh gawd, poor Dr. Dvir! It must be tough getting paid the big bucks to kvetch to your elite mates about all the genetically predisposed Talmud hating gentiles making fun of you.
But I'm not sure whether Dvir has failed to think his strategy through or whether he has a secret fetish to be the Fuhrer or something.
Libertarian philosopher and author Samuel Edward Konkin III (SEK3), who had written for the Institute for Historical Review (IHR) and arranged advertising space for IHR in the publication New Libertarian, wrote in the New Libertarian Manifesto:
The fundamental principle of counter-economics is to trade risk for profit.
The higher the expected profit, the greater the risk taken.  Note that if risk is lowered, a lot more would be attempted and accomplished—surely an indicator that a free society is wealthier than an unfree one…
Counter-economic entrepreneurs have an incentive to provide better security devices, places of concealment, instructions to help evasion and screen potential customers and suppliers for other counter-economic entrepreneurs. And thus is the countereconomic protection industry born. As it grows, it may begin insuring against "bursts," lowering counter-economic risks further and accelerating counter-economic growth.
For a guy with a PhD to flex his Jewish Supremacist privilege so blatantly, when it only seeks to embolden an underground counter-cultural NatSoc black market against the Zionist Occupation Government, it seems kind of a dumb move for a Jewish community leader to make.
Food For Thought.
To obtain your FREE copy of Trading HEMP for Hitler audiobook (as read by Political Pundit and Radical Agenda host Christopher Cantwell) or e-mail us at A481Designs_Publications@outlook.com.