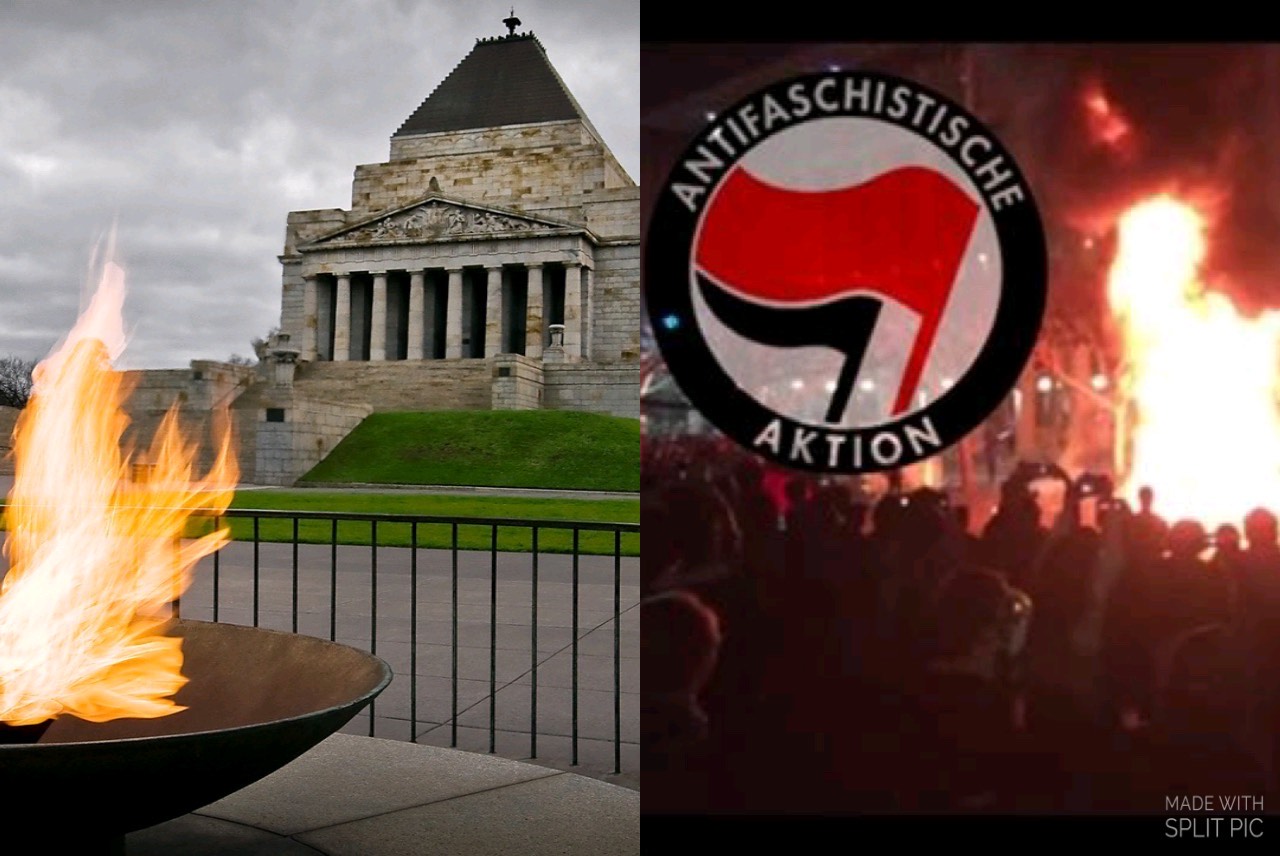 The XYZ has extensively reported on the oppressive and antagonistic measures taken by the government of the People's Republic of Victoria against its people and this weekend will see more of the type of behaviour that typifies our Marxist authoritarian state.
In April this year ANZAC Day was effectively cancelled on account of the Chi-Commie virus being able to spread rapidly among large groups of people gathering to pay their respects to this fine nation's fallen. On March 11 The Herald Sun reported that the head of Victoria's Politburo Dan Andrews, was considering "extreme measures" in containing the threat of Wu-Flu, particularly in respect to public gatherings. A media release from Minister for Veterans Robin Scott on the 24th of April echoed that "stay at home measures have forced the cancellation of traditional Anzac Day commemorations – such as the veterans march and local dawn services" yet re-assuring all nationalistic patriots that "there are still ways to come together and share our show of remembrance".
In 2019 25,000 people attended the Anzac Day dawn service at the Shrine of Remembrance along with thousands attending their local dawn services throughout the suburbs and rural areas. The outer northern suburb of Epping RSL alone saw several thousands attend. On the 23rd of May this year Gay Alcorn, writing for The Guardian, commended Comrade Andrews for his diligent measures to contain the commemoration of our nation's finest, under the guise of containing the spread of China-AIDS, lashing out at critics in the 'Murdoch media'. He/She/Xee (whatever) stated "Who would have thought it? Citizens like Governments to work through issues using evidence, to be honest about the complexity of challenges, to protect the health and well-being of their people". She/He/Xee (whatever) continues, "The sniping against Andrews defies reason. Australia's response to the global pandemic has been superb to date, for whatever combination of factors including geography, early social distancing restrictions, the national cabinet process and brave public health advice".
This begs a serious question on social distancing and brave public health advice. What advice has been given in reference to tomorrow's 'Black Lives Matter' protest that has been scheduled by Marxist-Black Supremacist group Warriors of the Aboriginal Resistance' (WAR)? Nine news reported that the expected crowd could reach 30,000 attendees, all gathered to call for a stop to black deaths in custody. On the prospect of the large turnout, Commissar Andrews deemed it "simply not feasible" to fine and arrest alleged black activists for breaching coronavirus restrictions "particularly given there may be thousands of people at this protest". So it seems that the tens of thousands that would have likely turned out for Anzac Day commemorations could have easily gone out to pay their respects as it wold have 'simply not been feasible' to fine and arrest us all. At time of writing no mainstream media have confronted Premier Andrews on his blatant hypocrisy. Here at the XYZ, we're not holding our breaths for that.
It doesn't take a genius to figure out what is fundamentally wrong with the state of Victoria. A state that punishes dissent from right wing speaking events by allowing attempted murder on attendees, then attempting to fine the organisers of said events. A state that removes dissenting sources of information from being presented in its public transport system, namely Sky News. As the XYZ has repeatedly revealed, Victoria is a Neo-Marxist authoritarian state that punishes facts, dissent and is closely aligned with a hostile foreign power, that of the Chinese Communist Party.
What is particularly asinine about this weekend's event is the subject of the protests. Representatives of Victoria's indigenous community have claimed that the protest is a call for the reduction of black deaths in custody, yet a 2019 report from the Australian Institute of Criminology, utilising data from the National Deaths in Custody Program (NDICP), claims that "indigenous people are now less likely than non-indigenous people to die in prison custody, largely due to a decrease in the death rate of Indigenous prisoners from 1999 – 2000 to 2005-06". Much of the AIC's data can be somewhat convoluted but one thing that is clear is that, at times of increased deaths in police custody or on police custody operations like pursuits, all ethnic demographics tend to be killed with a small proportion of those being indigenous.
One could argue that it is large relative to the indigenous population but even this avoids the real issues. Indigenous people are far more likely to fall victim to substance abuse and all of the problems that go with it, particularly mental health issues. The Australian taxpayer has been forced to pay excessive amounts of money to fund a system that bends over backwards to provide health and guidance for indigenous people with mixed results. Whether one agrees with these measures is utterly irrelevant. There is no nation in the world that goes so far out of its way to reconcile the issues within a small demographic of troubled people.
Former world champion kickboxer Andrew Tate – who presently resides in Romania – discusses on his YouTube channel the manner in which "gypsies commit more crime that Romanians, 8 times more". He claims that "when the police turn up they instantly get their batons out cos this is Romania, it's not like America where they play those f**king race games, here they don't' give a f*ck".
This is the case with much of the world not affected by Neo-Marxism. Australia is rare in the way we look after socially marginalised people. Yet the senseless screeching goes on unabated and unchallenged. Even a global pandemic can't prompt this state government into action to curb this unruly rabble, not that anyone with a functioning brain ever expected them to.
It may be worth getting in touch with Gay Alcorn of the Guardian (Twitter handle: @Gay_Alcorn) and letting him/her/shim (whatever) know that sniping Dan Andrews no longer seems to 'defy reason'. Clearly protecting the health and well being of our citizens only applies to law abiding, patriotic citizens who – funnily enough – abide by the law when demonstrating their devotion to the memory of the Anzacs. Meanwhile, lawless Marxist filth like those Melbourne has seen at right wing speaking events and black supremacists like those rioting in the US, are free to defy the social distancing measures as its simply not feasible to contain their nonsensical ravings.
On a closing note, tomorrow's protesters are encouraged to wear masks to the event. If Antifa show up as they have in the US, I do not envy the Victorian Police.