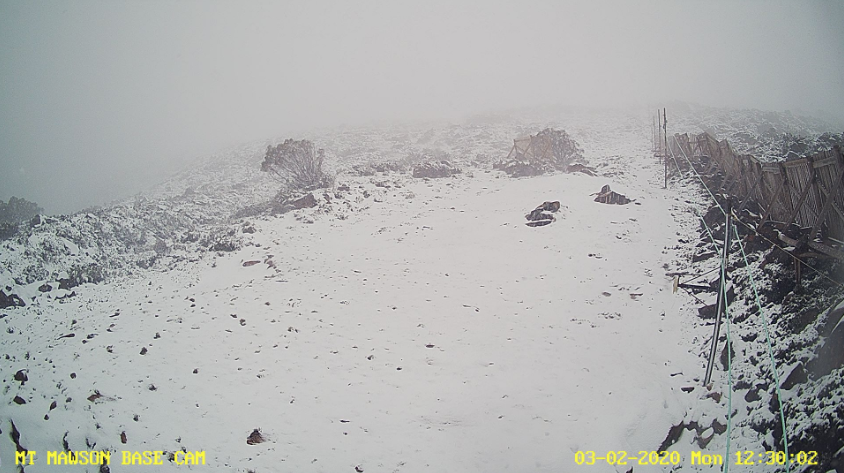 Summer snow fell across highland Tasmania on Monday morning.
Snowfalls were reported at Mount Wellington, Cradle Mountain, Lake St Clair and elsewhere. The snow was accompanied by over 30mm of rain in 24 hours in Western Tasmania, and followed on from 40C heat in Hobart over the weekend.
It was snowing in Tasmania on Monday morning, just three days after the temperature hit 40 degrees in Hobart: https://t.co/GaQjaT1cxx pic.twitter.com/rP4fDJ3rj5

— Weatherzone (@weatherzone) February 3, 2020
Its the middle of summer, the middle of the day and it's snowing at Mt Mawson Ski Field in #Tasmania February #snowfall to keep us interested! pic.twitter.com/PtDtm7b99b

— mount mawson (@mountmawson) February 3, 2020
The unseasonal spate of weather in Tasmania was occurring the same week as other parts of the planet were also experiencing unusual snowfalls. Snow fell on Baghdad on Wednesday for only the second time in a century, delighting local residents.
Baghdad's palm trees were whitened by the city's first snow in over a decade.https://t.co/5ig2my4IZY pic.twitter.com/9ZctV8TJfr

— euronews (@euronews) February 12, 2020
While snowfall in eastern Canada is usual for this time of year, the amount of snow experienced this winter has stunned residents of the region. After the Canadian military was called to dig out Newfoundland after Snowmageddon, more snow storms have hit the region.
Another blizzard turns 10 today! Remember that 2nd blizzard that came a few days after snowmageddon that never really got a name…that one!

Another 1-2' feet of snow! It was also the day DC broke their seasonal snowfall record (54.4"-1898/99) which had stood for over a century! pic.twitter.com/vbdMs3hS0W

— Mike Thomas (@MikeTFox5) February 10, 2020
Snow is falling either in quantities or in places unheard of before in living memory around the world.
#GrandSolarMinimum Winter Weather: Eastern Turkey is in the grip of freezing weather, with snowstorms, blizzards, and piercing temperatures reaching a record-breaking -40 °C. https://t.co/JthHEOufwg

— Grand Solar Minimum (@iceagereentry) February 12, 2020
Big White ski resort in British Columbia breaks snowfall record https://t.co/6KIi8wiCm7 #grandsolar

— Grand Solar Minimum (@grand_solar) February 6, 2020
Maunakea and Mauna Loa got a fresh dusting of snow and ice overnight, and webcams show the frozen precipitation reached as far down as the mid-level area. https://t.co/AAnjt2dOvG

— Big Island Video News (@bigislandnews) February 10, 2020
These anomalous weather events are occurring with increasing frequency. Shortly after the worst bushfires since 1851 in Australia, the east coast of New South Wales experienced widespread flooding. Around the world, previously stable weather patterns are being disrupted.
These strange weather events are coinciding with increasing volcanic activity, agricultural and human pandemics and the largest locust plague in Africa in up to 70 years.
Locust outbreak in East Africa has the potential "to be the most devastating plague of locusts in any of our living memories if we don't reduce the problem faster than we're doing at the moment," UN humanitarian chief says. https://t.co/nguPGEdnEc

— Breaking News (@BreakingNews) February 9, 2020
The establishment are telling the public these are to do with the theory of man-made global warming (AGW), however the events we are seeing are far more chaotic and widespread than AGW can explain. Global warming should not be occasioning greater earthquakes and volcanic eruptions. The theory of carbon-driven global warming also cannot explain the cyclical cooling and warming phases the planet has experienced for billions of years, most recently during the Little Ice Age from 1300 to 1850.
The only theory which can explain the strange and potentially catastrophic changes we are facing around the world is the Grand Solar Minimum.
We are entering a period of declining energy output from the sun. It is part of the sun's natural cycle, and through a complex set of effects on Earth will cause overall lower temperatures and an increase in temperature volatility everywhere.
We entered the Grand Solar Minimum period in 2018, and effects will intensify into the 2030's. The time to begin preparing is now.
Originally published at End Times Herald.