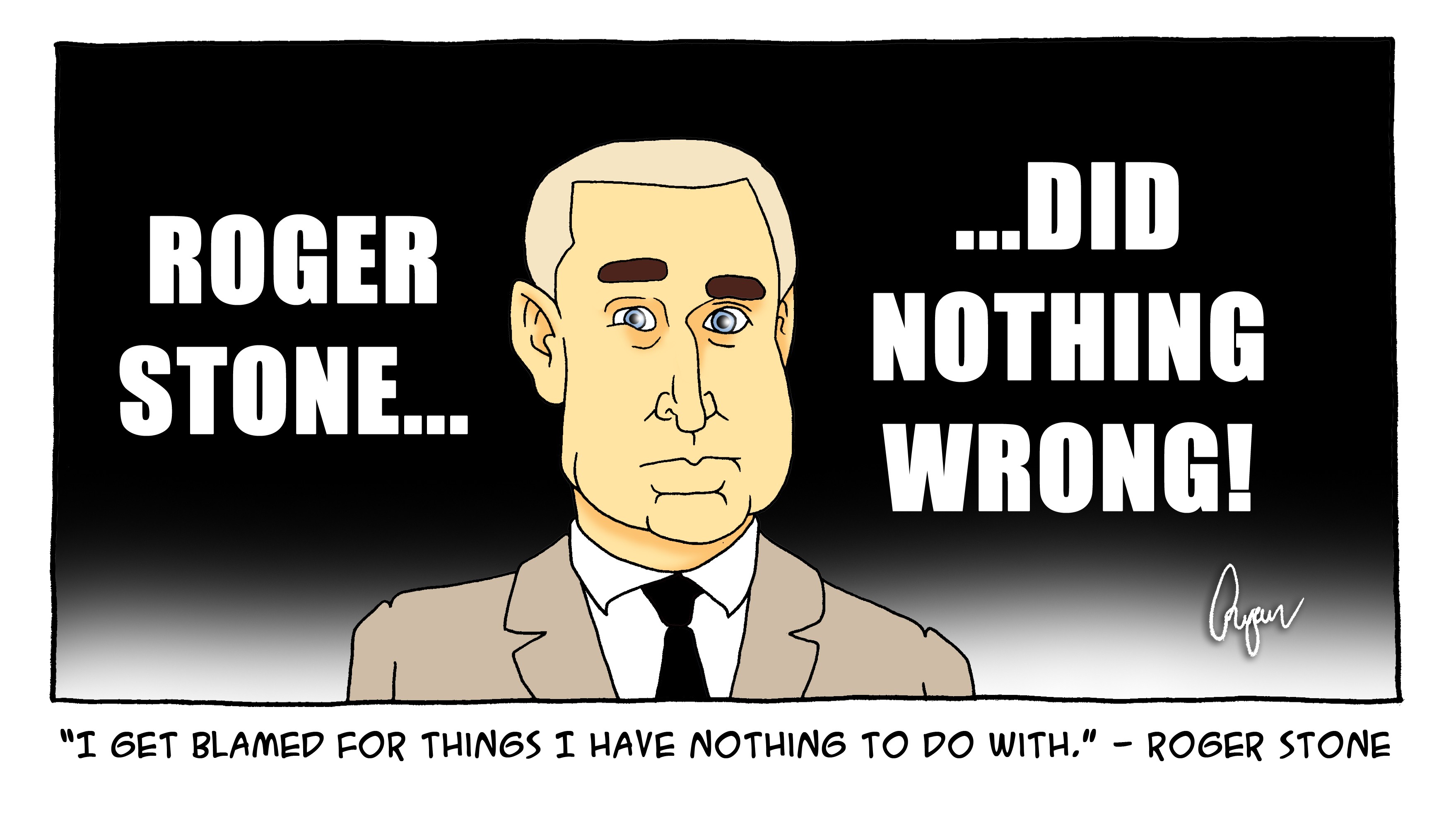 Roger Stone, the masterful agent provocateur who had a big part in helping get President Donald Trump elected in 2016, has been found guilty on all counts in a "WikiLeaks hacking case":

Associated Press reports:
Roger Stone, a longtime friend and ally of President Donald Trump, was found guilty of witness tampering and lying to Congress about his pursuit of Russian-hacked emails damaging to Hillary Clinton's 2016 election bid.
Stone was convicted of all seven counts in a federal indictment on Friday (local time) that accused him of lying to Congress, tampering with a witness and obstructing the House investigation into whether the Trump campaign coordinated with Russia to tip the 2016 election.
He is the sixth Trump aide or adviser to be convicted of charges brought as part of special counsel Robert Mueller's Russia investigation.
Stone has denied wrongdoing and consistently criticised the case against him as politically motivated. He did not take the stand during the trial and his lawyers did not call any witnesses in his defense.
Stone, 67, showed no visible reaction as the verdict was read aloud, count by count. He's scheduled to be sentenced on February 6. He could face up to 20 years.
Mr Trump tweeted minutes after the verdict, calling the conviction "a double standard like never seen before in the history of our Country", because his frequent nemeses, including Hillary Clinton, former FBI Director James Comey and "including even Mueller himself", have not been convicted.
"Didn't they lie?"
Ostensibly speaking, Roger Stone is a representative of the support test for team Trump, in the same way ANTIFA is the support test for the Democrats.
The Fabian Financial Wall Street money-power of the Deep State, which is seeking to eliminate populists, nationalists, patriots and anti-globalists from having an impact on the power structure, have sought to target Roger Stone because of his tenacious, resilient and effective ability at advancing Deep State enemies.
If President Trump doesn't pardon Roger Stone it will send an unholy negative market signal to anyone looking to board the Trump train in 2020. Who will stick their neck out to work on Trump's campaign with the knowledge they'll be thrown to the wolves as a result?
Food For Thought.
To obtain your FREE copy of Trading HEMP for Hitler audiobook (as read by Political Pundit and Radical Agenda host Christopher Cantwell) or e-mail us at A481Designs_Publications@outlook.com.