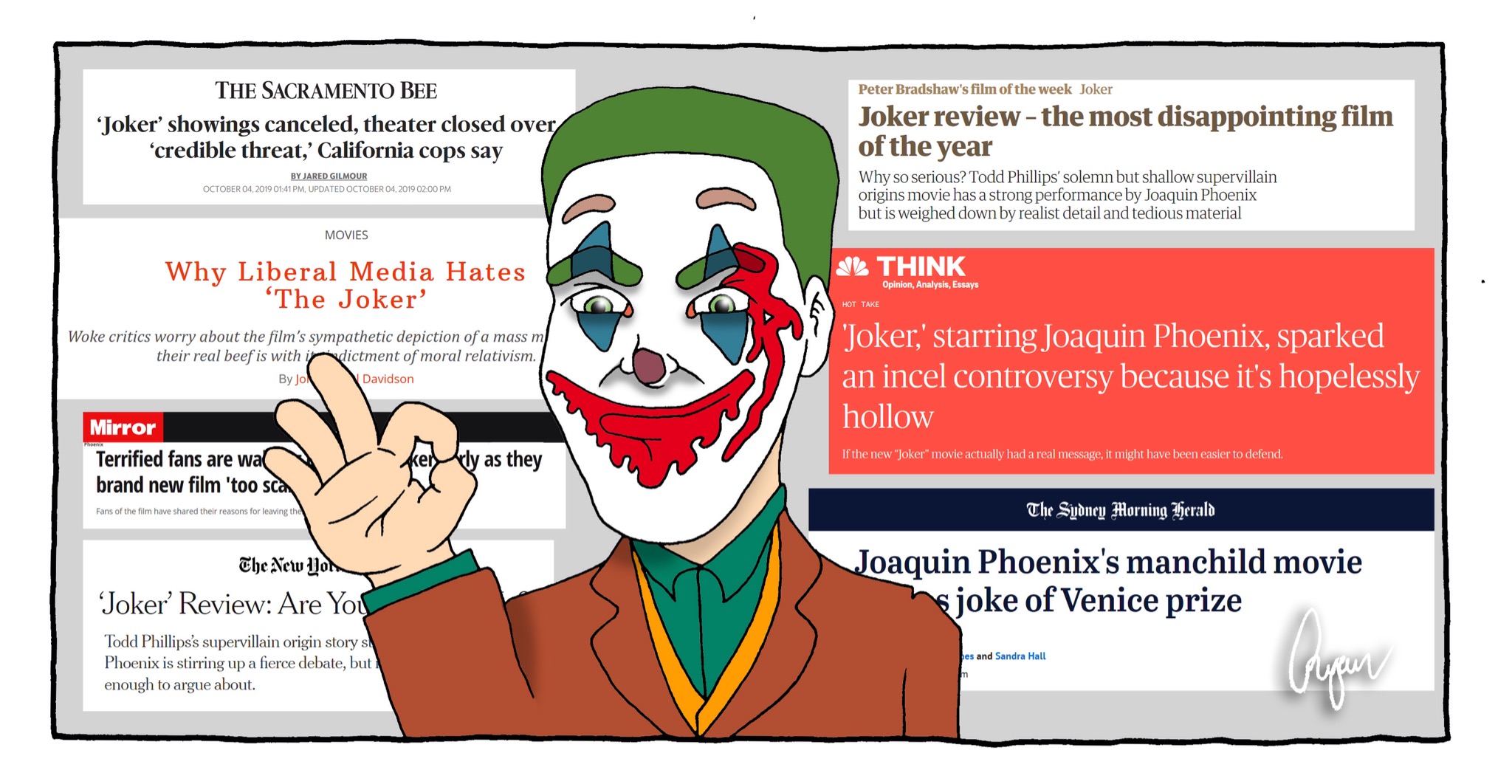 Following on from last month's motif, I went to see Todd Philips' Joker on opening night with my brother and was blown away by the film (pun intended)!
Joker in two phrases:
"You get what you f-cking deserve!"
..and..
Joker was objectively masterful and will likely rank as one of the greatest films to date, even though it's lead creative team were mostly Jewish and the clown-masked street rioters in the film held signs like "eat the rich" and "Fascist Wayne is To Blame" (nice projection there Blattman).
Now I only have an above average IQ of 122 and a diagnosis of "Epileptic Psychosis", but I'm not so crazy or lacking in pattern recognition to figure out why certain ANTIFA colluders had such an aversion towards the film.
I mean who would've thought that a bunch of trust-fund Trotskyites weaponizing the mentally ill, praising ICE detention centre bombings and cold-blooded murderers wouldn't like a film where that quite glaringly is the narrative being imbued throughout?
With characters like Thomas Wayne (Brett Cullen) and Murray Franklin (Robert De Niro) being framed as the evil "fascists", could it be the Talmudic far-Left worry about these archetypes being identified in real life as the neo-liberal financiers and media personalities bolstering their anarchist antics?
Because as we know the J-Left anarchist allies are totally not giving the Department of Homeland Security their marching orders.
It has also been stressed to us that the Joker is not Jewish and that the entire subtext to the film is that it's all about White terrorism stupid (which is why ALL nationalist or Right-wing praise of the film is being considered "hate speech").
Perhaps it was these words from Joker director Todd Philips that got these poor little bolshies so butthurt:

Washington Post reports:
Since debuting at the Venice International Film Festival earlier this month, "Joker," an R-rated supervillain origin story, has drawn both rave reviews and concerns over its realistic portrayal of a character sliding into a psychosis that leads him to kill.
The film's director, though, fiercely defended his film in a newly published interview, arguing that those worries are little more than the complaints of people looking for something to be angry about.
"I think it's because outrage is a commodity, I think it's something that has been a commodity for a while," director Todd Phillips told the Wrap in a Sept. 20 interview first published Wednesday. "What's outstanding to me in this discourse in this movie is how easily the far left can sound like the far right when it suits their agenda. It's really been eye-opening for me."
Food for Thought.
To obtain your FREE copy of Trading HEMP for Hitler audiobook (as read by Political Pundit and Radical Agenda host Christopher Cantwell) or e-mail us at A481Designs_Publications@outlook.com.