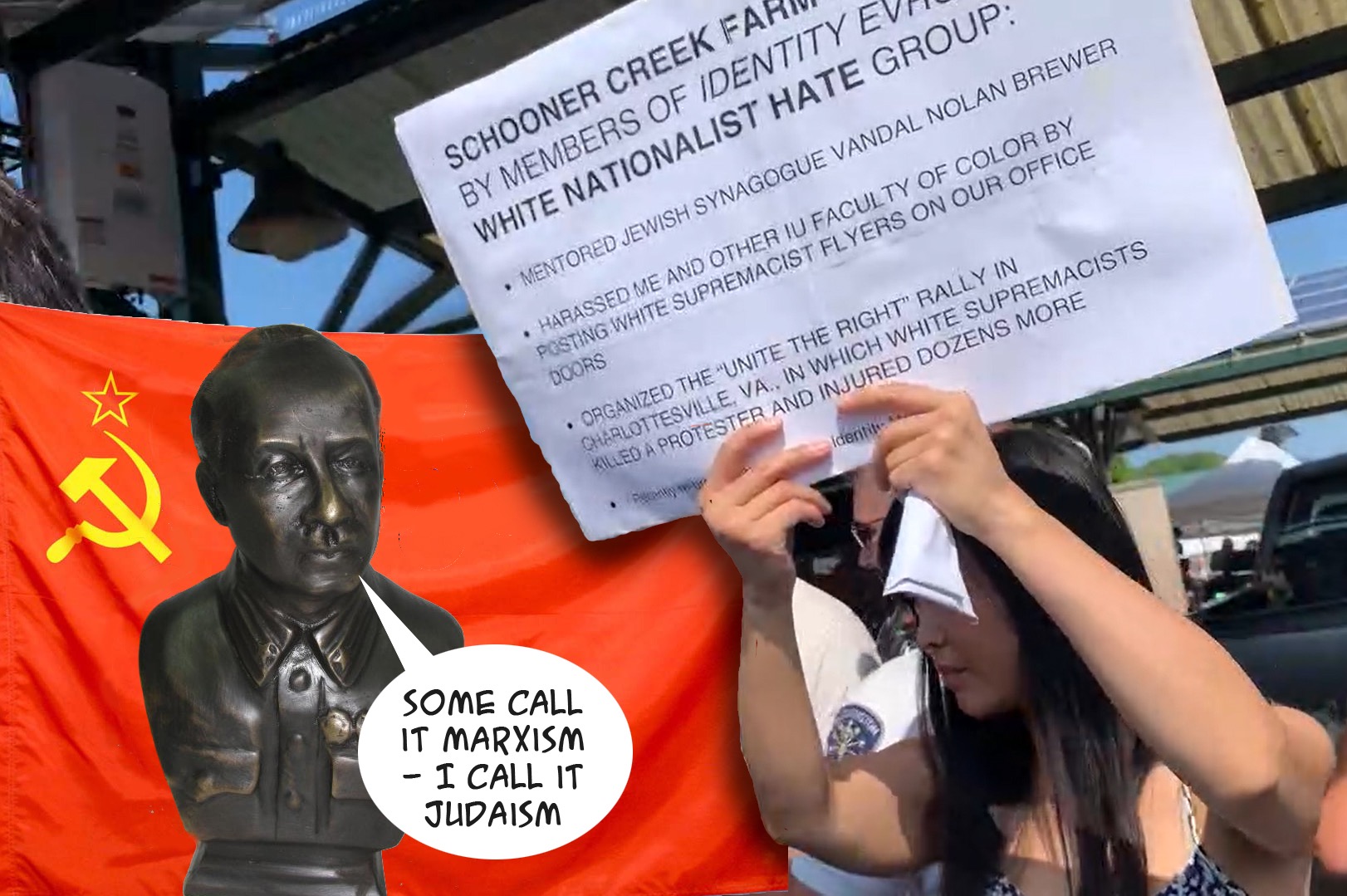 Anti-White "ally" Kelly Weill had reported earlier this month that Farmers Markets are now the new hang out for "Fascists", "White Supremacists" and "Nazis".

Daily Beast reports:
At Bloomington, Indiana's weekend farmers' market, shoppers can stock up on kale, fresh eggs, homemade jams—and anti-Nazi accessories.
"Don't Buy Veggies From Nazis," read a pile of colorful buttons at a recent Saturday farmers' market.
The buttons were a jab at Sarah Dye and Douglas Mackey, proprietors of Schooner Creek Farm, a vegetable farm. Like other unassuming stallholders at the market, Dye and Mackey sell eggs and seasonal vegetables.
But online, Dye is "Volkmom," an active member of the white supremacist group Identity Evropa, according to leaked chat logs. "Volk" is a nod to the Nazis' back-to-the-land völkisch movement.
"Any Whites who have spent time living in a neighborhood or attending a school with a non-white majority know the strife that Whites endure," Dye wrote in an Identity Evropa chat in January. "I can attest to it myself." She also wrote of trying to win over a family member by showing videos from a white supremacist channel.
Geez, the horror of it all. Guess that totally justifies inciting ANTIFA meth-addicts to stalk, send death-threats and sabotage Sarah and Douglas' business. No wonder being an anti-White ethno-masochist is on par with ebola hey Kelly?
But it doesn't stop Moloch worshipping Mayors like John Hamilton from getting his poz on:

WBAA reports:
The City of Bloomington is suspending the Community Farmer's Market for two weeks citing a concern for public safety after recent protests and an arrest over suspected ties between a market vendor and a white nationalist group…
"As Mayor, I have spoken for our City to condemn white nationalism and white supremacists as a scourge on our country and our community, and to promise that we will do all we can to overcome their legacies and any current efforts," Mayor John Hamilton said in the release.
"We also want to assure that everyone knows that all are welcome in our inclusive Bloomington, and that our Farmers' Market will embody those values of inclusion and welcoming, as well as be a safe space for all to gather, as our community expects every Saturday."
By all means keep driving up the system's social costs of being a White Nationalist Kelly. Generation Z already have you and your communist rodent mates sized up as the establishment culture.
Let's hope you bastards reap what you sow.
Food for Thought.
To obtain your FREE copy of Trading HEMP for Hitler link to the audiobook (as read by Political Pundit and Radical Agenda host Christopher Cantwell) or e-mail us at A481Designs_Publications@outlook.com.