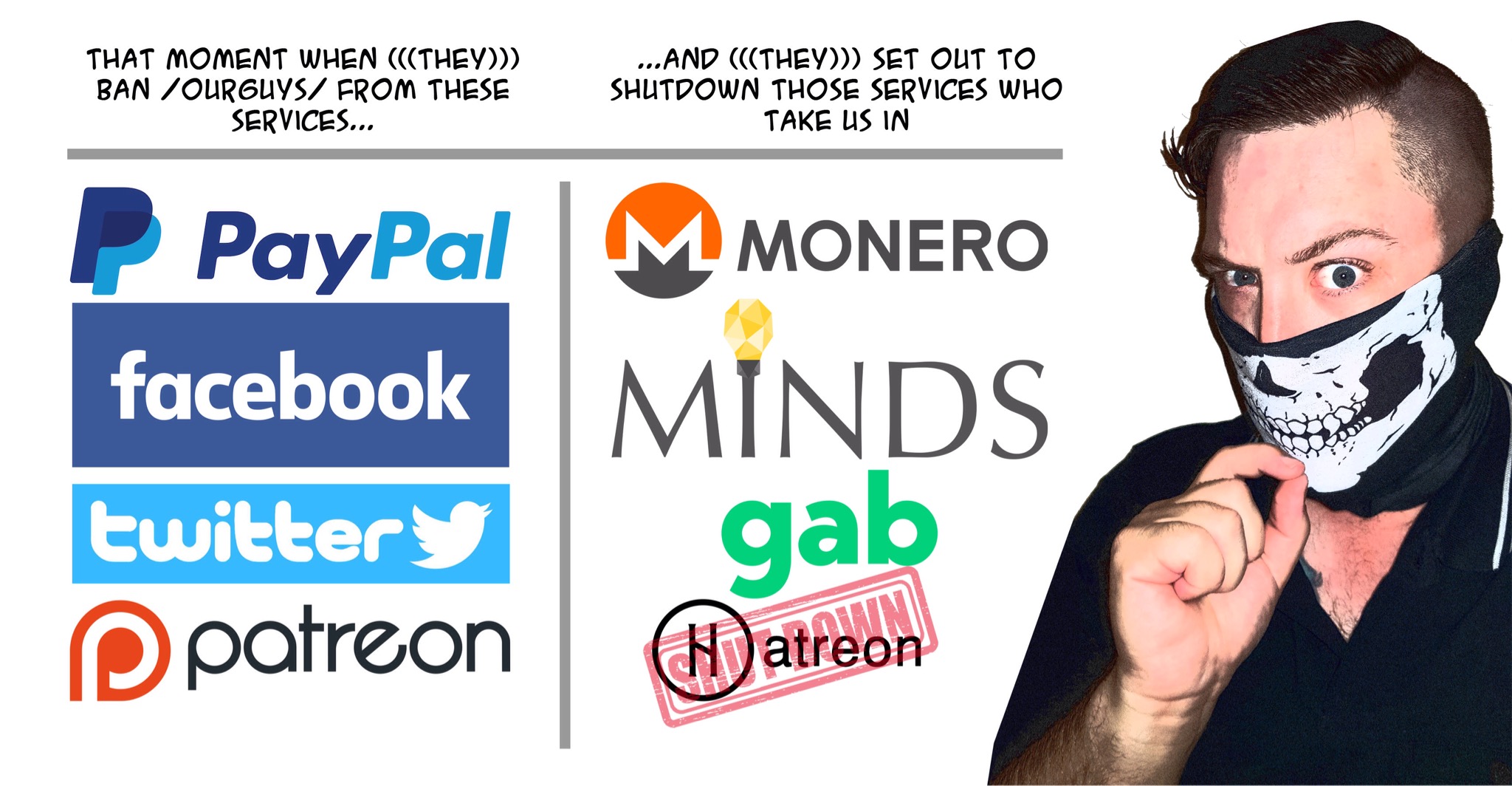 Following on from my observations last year, and Westpac's shutting down of bank accounts for Blair Cottrell and Dr. Jim Saleam this month, the collusion between central banking cartels and violent communist terrorists is becoming more apparent to sceptical observers.
Up till now many prominent nationalists have been blacklisted by payment processors like PayPal, Stripe, Square, GoFundMe and Pateon (all which offer services to Far-Left terrorist groups).
Even mainstream crowdfunding sites like Funded Justice (a Stripe affiliate) which enabled users to raise legal funds (and has provided these services to convicted murderers, rapists, drug dealers, ect.), denied services to Richard Spencer following the Unite The Right rally in Charlottesville.

Splinter News reports:
Spencer used Funded Justice for a short time, but after the company was made aware (either via social media chatter or direct communications with the activist behind @deplatformahate) that Spencer was on the site, they banned him and refunded the money he'd raised to his supporters. The activist said that an attorney who represents Stripe has been in touch with them on more than one occasion to discuss their complaints, but so far Stripe has refused to alter its terms of service agreement. (Stripe has not responded to a request for comment about its communications with @deplatformhate.)
Hence why Freestartr, a Right-of-centre alternative to Funded Justice, has naturally been denied payment processing services:

Liberty Planet reports:
Web-based funding platform Freestartr, founded by conservative Charles Johnson as an alternative to other left-wing payment platforms, was recently banned from using both PayPal and Stripe. The move affects not only the platform itself but also the many conservative groups and individuals who use it.
The Southern Poverty Law Center and its left-wing cohorts in the media have naturally been celebrating the recent censorship efforts as a "good thing". SPLC spokeswoman Heidi Beirich claimed that a lot of the money from Freestatr went to neo-Nazis and white supremacists, and made it clear that the SPLC's end goal is to get all financial institutions to stop servicing organizations that the SLPC deems to be "hate groups."
Meanwhile the Southern Poverty Law Center (SPLC) and Anti-Defamation League (ADL), two affluent anti-White organisations who vexatiously litigate against anyone Right of Alexandria Ocasio-Cortez, have created an environment in which a Muslim comedian can sue the Daily Stormer (a site which intonates satire throughout its articles) and win US$4.1 million. No joke!

Newsmax reports:
A federal judge has ordered a white supremacist website to pay writer and comedian Dean Obeidallah $4.1 million for knowingly publishing a false article about him.
As The New York Times reported, the judgment was handed down last week. The case stemmed from an article published on the fringe website The Daily Stormer in June 2017 that accused Obeidallah, who appears on CNN and writes for several news websites, of being a terrorist who orchestrated the Manchester, England bombing attack at an Ariana Grande concert.
Funny how the self-described "anti-establishment" Left-wing keep chanting the mantra of "White Supremacists run everything", meanwhile the entire system kowtows to their allies in the SPLC, ADL, ECAJ (Executive Council of Australian Jewry) and every other acronym in the B'nai B'rith fan club.
Food For Thought.
To obtain your FREE copy of Trading HEMP for Hitler link to the audiobook (as read by Political Pundit and Radical Agenda host Christopher Cantwell) or e-mail us at A481Designs_Publications@outlook.com.