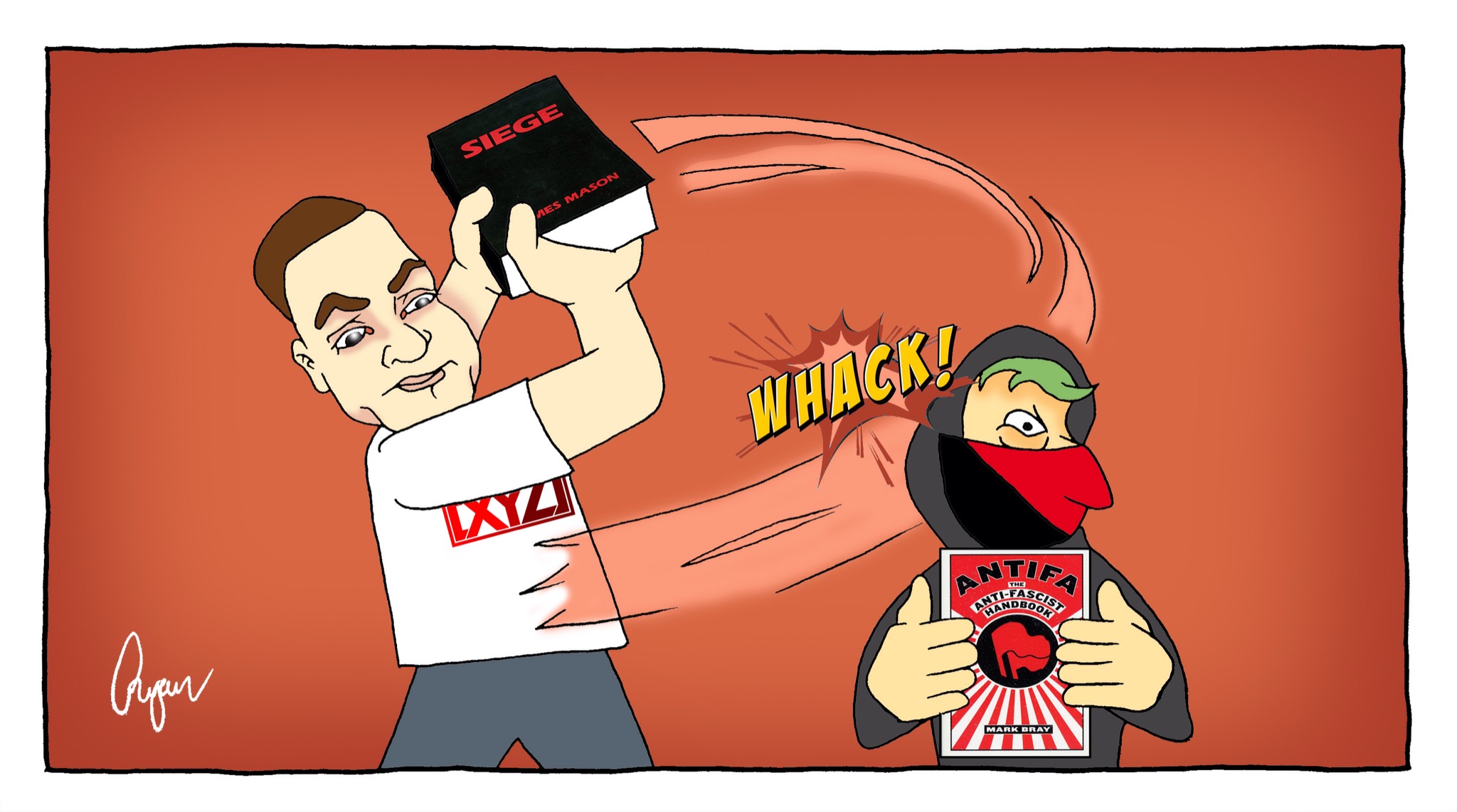 Silicon Valley's tech oligarchs have made it a stable datum on these social media platforms to silence right-of-centre wrongthink from their intelligence gathering empires. It's to the point now that analysts like Dr. Eoin Lenihan can't even articulate (from a non-partisan perspective) the fact that the establishment corporate controlled fake news media are colluding with the ANTIFA black bloc.

Human Events reports:
Former teacher and analyst Eoin Lenihan has been banned from Twitter after revealing major links between so-called "anti-extremism" campaigners and the hard-left AntiFa group.
Lenihan published his findings in Quillette, revealing links between journalists who write for the the Guardian newspaper, HuffPost, Al Jazeera, and various other publications to the hard left group.
Lenihan was suspended early Wednesday morning, prompting speculation about the ban.
Andy Ngo, a Wall Street Journal contributor and editor at Quillette, alleges that Lenihan was suspended following mass reports by members of AntiFa on Twitter.
I definitely recommend XYZers read Dr. Lenihan's article in full:

It features an old friend of The XYZ:
A more prominent example is Jason Wilson, a Portland-based writer for The Guardian. One of his recent articles focused on a U.S. regional intelligence report whose authors concluded that Antifa and the far right share responsibility for street violence. "Experts say the report mischaracterizes the dynamics of the street violence," Wilson complained.
One of Wilson's main "experts" in the piece, it turned out, was none other than Antifa handbook author Mark Bray, who, predictably, denounced the report's contents as "ludicrous." In fact, Bray makes regular appearances in Wilson's articles. So does fellow Portland resident and eco-extremist Alexander Reid Ross, who regularly writes for Antifa publications such as the It's Going Down anarchist news site. (Ross also contributed to a 30-year-anniversary edition publication for Earth First!, an extremist environmentalist collective that advocates what activists euphemistically call "direct action.")
In another column for The Guardian, this one about the 2018 "Occupy ICE" protest in Portland, Wilson quoted "local activist" Luis Marquez to the effect that "I think this occupation is a beautiful thing, a wonderful thing. Every single person here is a hero." Marquez is in fact a prominent Antifa leader in Portland, and has been arrested on numerous occasions due to his militant behavior—including alleged theft and assault.
Interestingly, while other Portland journalists such as Genevieve Resume of KATU News, Maggie Vespa of KGW News and Quillette's own Andy Ngo (who has voiced concerns about Antifa's actions) have been harassed and assaulted by Antifa activists, Wilson seems welcome to mingle freely among Antifa, and has even been photographed standing close to Marquez. In one piece, titled "How the world has fought back against the violent far-right and started winning," Wilson effectively drops the pretense that he is a neutral reporter, and approvingly outlines the Antifa tactics set out in Bray's book. He also defends such tactics as doxing, stalking, deplatforming and shaming as valuable means to attack individuals whose views he dislikes. In doing so, he cites both Bray and Emily Gorcenski, who runs a doxing site called First Vigil, and an associated Twitter account, which shame individuals she deems to be fascists before they have received due process.
They even produced a map which looks remarkably similar to the so-called "Alternative Influence Network":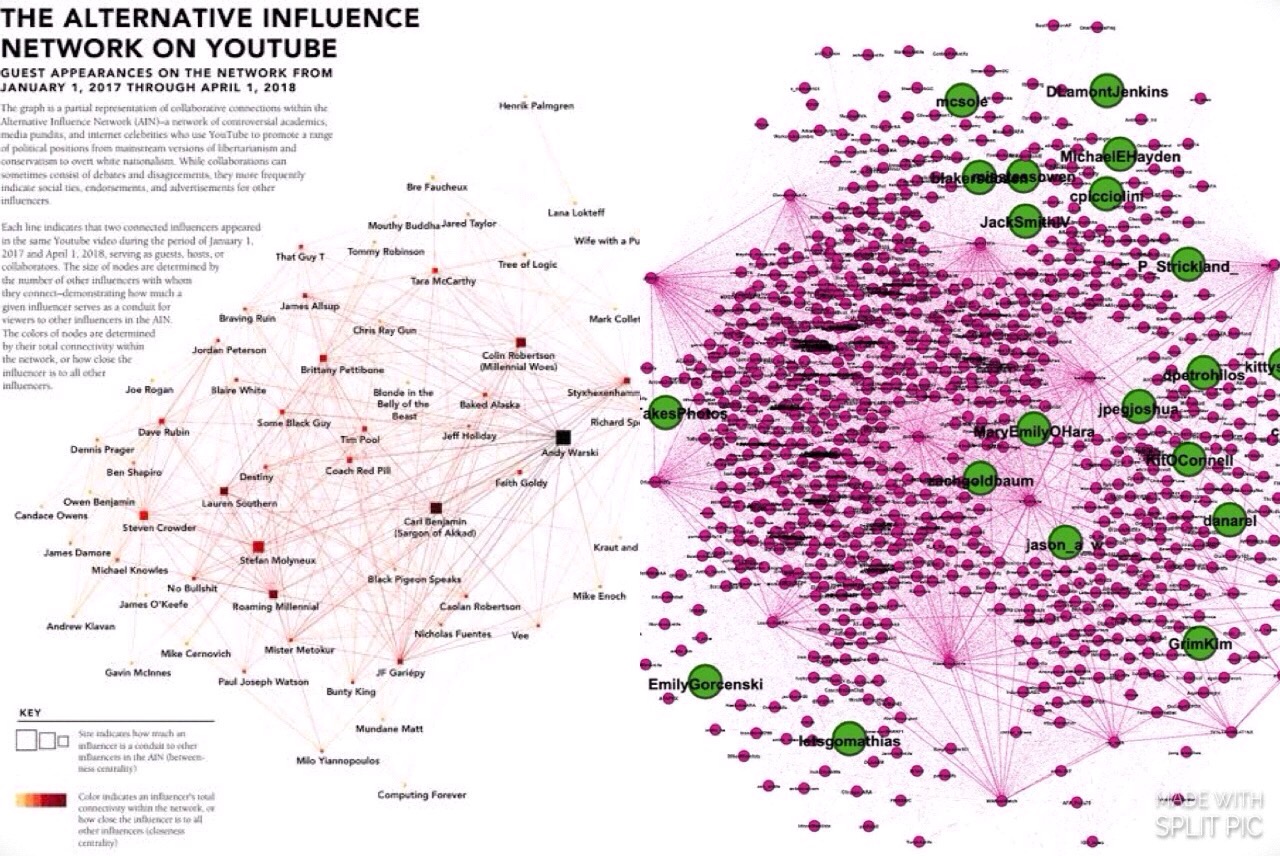 Your XYZ has been reporting on high level ANTIFA collusion for years now (i.e. with media, government, high finance and "security services"), so this latest ban comes as little surprise to most of our contributors and readers. But it should be noted that ANTIFA's strategy of making "fascists" into full-timers, by robbing them of a livelihood, depriving them of a home and threatening the safety and security of their families is going to backfire in a spectacular way!
Food For Thought.

To obtain your FREE copy of Trading HEMP for Hitler link to the audiobook (as read by Political Pundit and Radical Agenda host Christopher Cantwell) or e-mail us at A481Designs_Publications@outlook.com.