In 2016, Donald Trump started taking on the Marxist demons like a space marine in Doom. The NPC's keep hurling themselves against him, and he just keeps on blowing their brains out.
It's like he found the god mode cheat IRL.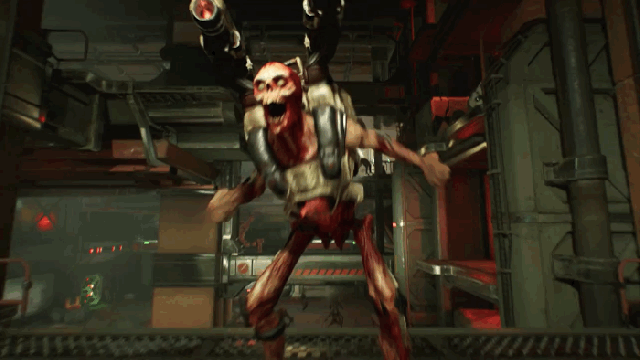 The final boss is within reach.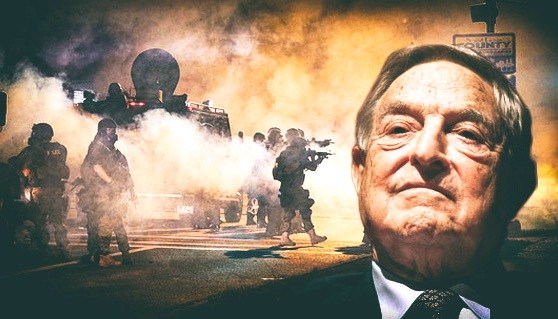 Or maybe he's not the final boss. Maybe the true money power overlords use their control of central banking to create money out of thin air and hand it to Marxist fanatics like Soros to advance their one-world agenda. Maybe they fund both sides and also fund Trump's Zionist backer Sheldon Adelson. Maybe the Marxist internationalist-Zionist nationalist dialectic is being used by the shadow elite to bring the world under one government after World War III.
Nah maybe that's just crazy talk. Either way, space marine Donald has called out this level boss.
The very rude elevator screamers are paid professionals only looking to make Senators look bad. Don't fall for it! Also, look at all of the professionally made identical signs. Paid for by Soros and others. These are not signs made in the basement from love! #Troublemakers

— Donald J. Trump (@realDonaldTrump) October 5, 2018
And as you'd expect, kosher Twitter lost its collectivist hive mind.
I'm sorry but the "Soros is paying them" trope from the president of the United States is … wow. Read (((Semitism))): Being Jewish in America in the Age of Trump. https://t.co/TGHqkEqxI0 https://t.co/lvg7sch5gQ

— (((JonathanWeisman))) (@jonathanweisman) October 5, 2018
One thing about the lie that Kavanaugh protestors are Soros-funded: it's anti-Semitic and rejects the legitimacy of dissent. But it's also projection: This is in fact what Republicans have done, e.g. in the "Brooks brothers riot" against a Florida recount https://t.co/YlRrflk8hU

— Paul Krugman (@paulkrugman) October 5, 2018
The president of the United States resorts to a classic conspiracy theory… https://t.co/IbmNdaJLzP

— Anne Applebaum (@anneapplebaum) October 5, 2018
Glad I left Russia where Putin blames everything on Soros to come back to America where Trump blames everything on Soros.

— Miriam Elder (@MiriamElder) October 5, 2018
For all the talk of anti-Kavanaugh protesters being paid, I just saw a group of Confirm Kavanaugh folks whip out a binder with a FreedomWorks logo on it and a printout of all the Senators (with their pictures next to them) who they should lobby

— Sam Stein (@samstein) October 5, 2018
With Trump and Grassley going all in on an anti-Semitic conspiracy theory involving Soros, let's not forget Brett Kavanaugh's dark speculation about "millions of dollars in money from outside, left-wing opposition groups."

Trump and Grassley just made the subtext text.

— Adam Klasfeld (@KlasfeldReports) October 5, 2018
On the surface, Trump's tweeting of a Soros conspiracy theory acts to explain-away opposition to Kavanaugh. But beneath that veneer, those conspiracy theories trace back to longstanding anti-Semitic tropes.https://t.co/oypXY9pgT5

— Right Wing Watch (@RightWingWatch) October 5, 2018
"George Soros: The Hungarian Jewish billionaire, Holocaust survivor and philanthropist figures prominently in anti-Semitic tweets, with claims that he directly uses his largess to fund false flag events." https://t.co/2YciOWa3u4

— Daniel Dale (@ddale8) October 5, 2018
Trump frequently tries to take away women's agency when he doesn't like their actions:

Barbara Underwood sued him over the Trump Foundation because of Eric Schneiderman.

Women are protesting #Kavanaugh because of George Soros.

Nope. Women are doing this all on their own. https://t.co/7UUZzgMPgA

— Amy Spitalnick (@amyspitalnick) October 5, 2018
LAST DITCH EFFORT: A PLEA TO SENATORS https://t.co/vDGUNJNTK4

— Sarah Silverman (@SarahKSilverman) October 6, 2018
"Kavanaugh's worldview is one that Jewish Americans cannot accept."

Our Jewish community will continue to speak out against Kavanaugh's nomination because we #BelieveSurvivors.

Read the full op-ed by our CEO Stosh Cotler + @NCJW's Nancy K. Kaufman.https://t.co/tA4yP9IUUM

— JewishAction (@jewishaction) October 5, 2018
All of those tweeters have something in common. I'll let you guess what it is. Probably just a coincidence.
We on the dissident fringe have been calling out Soros' political puppeteering for years now. It was one of my main themes when I wrote for the Daily Caller. Gotta say, it's mighty gratifying that it's now being tweeted at 2am from the Executive Residence of the once-again White House.
It's a theme the Daily Caller has been at the cutting-edge of exposing to the normiesphere.
This isn't a new development. The history of the modern period has been that of the shadow financial elite using social engineering through the funding of revolutions, wars, financial panics and false flags to bring order out of chaos. They create the chaos, then they propose the order. Usually a new order. Ultimately, a new world order.
I look forward to the day POTUS uses the hashtag #NWO. Maybe he'll even @ a Rothschild.
Until then, there is much NPC blood that must splatter the walls.