Can we just agree that Donald J. Trump is the best President the US has ever had?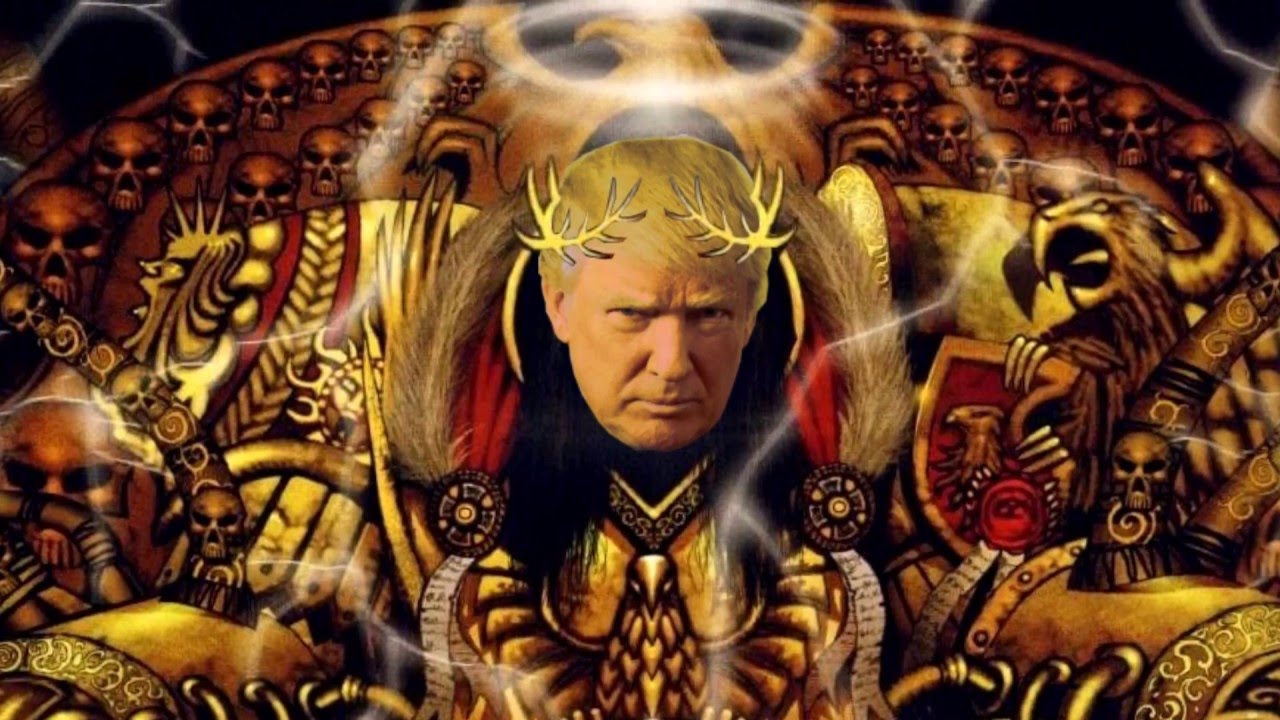 No? Too much? The best since Regan?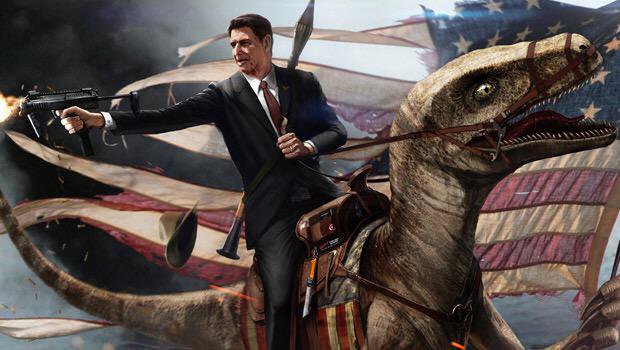 It's certainly not a matter of opinion at this point. In order to be of the opinion that President Trump is a bad President one would have to dislike the US dollar peaking with the Dow Jones at an all-time high, or to dislike major manufacturing companies coming back to the US, a massive leap in GDP, the weakening and/or destruction of the West's enemies, or to dislike record low unemployment rates particularly among black and Hispanic Americans.
And if you're of the opinion that black and Latino people should not be employed at high rates along with the highest ever recorded number of blacks opening their own businesses, well… That would be a little racist wouldn't it?
And all of this after 8 years of a black President who – unchallenged by much of the mainstream media – flirted with America's enemies, virtue signalled, and pumped enormous validity into identity politics to the point where his would be successor thought she could play the misogynist card all the way into the White House.
Wrong!
So let's have a closer examination. It must be acknowledged that the Dow jones has risen steadily following the GFC, but from fiscal year 2016/2017 it took a particularly sharp increase and has – with minimal significant bumps – simply continued to rise. According to the US Bureau of Labor Statistics unemployment in the US sits at 3.9% in July which is the lowest it's been since December 2000. That's even lower than the months prior to the GFC where unemployment sat around the 4.6% mark in calendar year 2006.
The slashing of red tape has been another signature policy for the Trump administration. From the Office of Information and Regulatory Affairs:
"In Executive Order (EO) 13771 ("Reducing Regulation and Controlling Regulatory Costs," January 30, 2017), President Trump directed agencies to eliminate two regulations for each new one and to reduce net regulatory costs to zero in Fiscal Year 2017".
In December 2017 the Competitive Enterprise Institute reported that:
"The Trump Administration withdrew or delayed 1,579 Obama rules that were in the pipeline but not yet finalized".
It is important to note that withdrawing and delaying regulations that haven't yet been implemented is a different beast to that of abolishing established regulations. Still, as Forbes Magazine noted:
"People have reason to be impressed with President Trump's achievements on stemming the flow of red tape, as documented in the administration's new status report concerning Trump's "one-in, two out" program — as well as implied in year-end scope of the Federal Register and in the number of rules agencies produced relative to Obama, and relative to laws Congress passed".
The same article detailed the 6 main elements of Trump's 'regulatory rollbacks' and is well worth a read.
This regulatory roadblock has almost certainly contributed to a renewed confidence in entrepreneurship as reported by Fortune Magazine who cited a study by Challenger, Gray and Christmas Inc. The report showed great optimism stemming from:
"Favourable employment conditions and the continued availability of low-interest credit, the percentage of job seekers starting their own business increased to a four-year high in the final quarter of 2016."
And that as a result:
"7.4% of job seekers in the United States started their own businesses in the quarter ending December 31, 2016, which is a significant increase from 4.8% in the fourth quarter of 2015."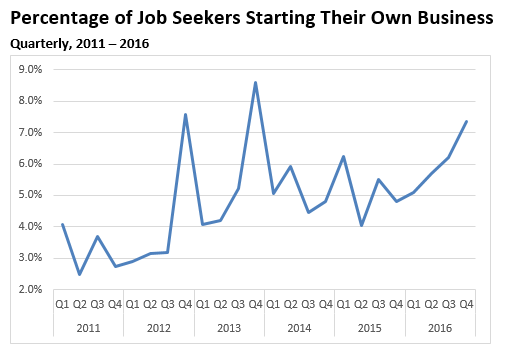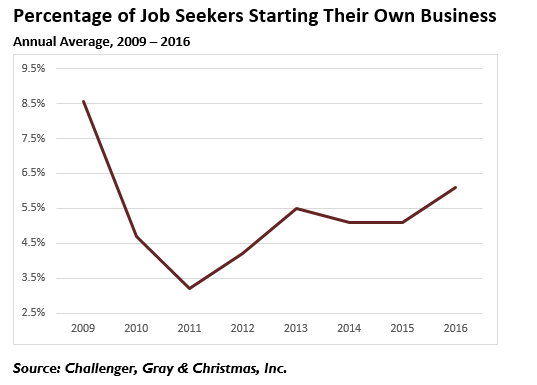 And thus we hit GDP growth which Fortune Magazine also weighed in with the headline that says it all:
"US GDP growth hits 4.1%, it's the fastest pace since 2014".
This of course stands in stark contrast to Michael Hiltzik's LA Times article from May 2017 upon which he published the headline:
"If Trump thinks he can get more than 3% economic growth, he's dreaming".
Hiltzik wrote:
"During the presidential campaign, Trump promised growth of 3.5% a year, and sometimes even 4%. There's no disagreement that a sustained growth rate of this magnitude would be a significant achievement. Over the past decade, the economy has grown at an average of about 2% a year. The Congressional Budget Office forecasts an annual average of about 1.9% well into the next decade".
Wrong!
But prosperity is of course not the only thing that God Emperor Trump has brought to the United States. One can almost hear the lamentations of the women as our enemies are crushed and driven before us. Iran is in perhaps the weakest position it's been globally since the Revolution, with social dissent growing among a highly digitalised and rebellious youth.
ISIS have been crushed and scattered into cells, which by no means spells their total demise, but shows the world how ineffective their task and purpose was. ISIS' leader, Abu Bakar Al-Baghdadi, is believed to be wounded in Syria's Jazeera desert in the company of a few 'collaborators' with a $25m US bounty on his head. Good luck with that champ.
Furthermore, his worthless son was killed trying to trying to attack a thermal power station in Syria. Let us not forget that this is the group who publicly listed churches in 50 US states to be targeted for bloody attacks over the 2016 Christmas/New Year's period. At the time, ISIS called for their followers to "turn the Christian New Year into a bloody horror movie" in accordance with their guiding philosophy which would ravage the Western world and have us all submit to Wahhabist style Islam.
Wrong!
Trump has moved the American embassy in Israel to Jerusalem, and pulled the US out of the Paris Climate sham. He has also withdrawn from the ineffective and absolutely abhorrent abomination that is the UN Human Rights Council, which had made such a mockery of human rights norms that it became quite obvious that it was the tyrannical rulers' way of saying: "Fuck the free world. We own your supra-national apparatus".
Wrong!
One could go on at length about US economic growth reaching astounding levels with the dollar, consumer confidence and employment soaring; America's enemies – foreign and domestic – are feeling the heat if they haven't already been struck by MOABs; the borders have never been tighter with a greater emphasis on enforcing existing laws as they pertain to Homeland Security; and so on but I'd like to make special mention of a bill that came through allowing US military veterans the ability to choose their own hospitals instead of being unnecessarily confined to those prescribed to them by VA bureaucrats. Prior to this, veterans – particularly in rural areas – would potentially have to travel inconvenient distances to be able to receive the kind of health care that a free nation should be bending over backwards to provide.
Rupert Murdoch quite poignantly noted how Trump is 'instinctive not ideological', which is very much true, but his administration has effortlessly passed more bills which favour Conservative outcomes than any other US President since Regan. Additionally, the Trump administration has gone to great lengths to secure prosperity and well-being for all Americans in – what should be – a bipartisan manner.
I think it's time to say that President Donald J Trump is objectively the best US President in living memory.
Not as a matter of opinion, but as an undeniable matter of fact.