From the New York Times 13th of July, 1998:
A million Parisians stormed the Champs-Elysees tonight in an early celebration of their July 14 Bastille Day national holiday unleashed by France's first victory ever in the World Cup championship, 3-0 over Brazil in the Stade de France in St.-Denis.
Black and white, Muslim and Christian, Arab and Asian, the people of Paris trooped down the avenue as they had during victory parades after World Wars I and II.
It was, the French coach, Aime Jacquet said, a moment of "national communion."
And tonight the French came together to wave blue-white-and-red flags, honk horns, and toss cherry bombs and firecrackers onto the granite cobblestones under a shimmering moon, in the exuberance of suddenly being on top of the world after a long period of doubt over whether they had what it took to compete in a global economy dominated by Anglo-Saxons. But with the teams of the United States and England long since sent out of this championship in defeat, the Champs-Elysees became a celebration of the Gallic spirit.
"The whole world is here," boasted one of the celebrants, Rachid Kasimi, a French soccer booster from the racially troubled suburb of Asnieres who said his family emigrated here from Morocco. "This is the most beautiful avenue in the world, and we're going to stay here all night," he shouted over the din created by drivers of cars trapped in the celebratory madness, honking staccato victory rhythms, and people shouting, "We've won, we've won."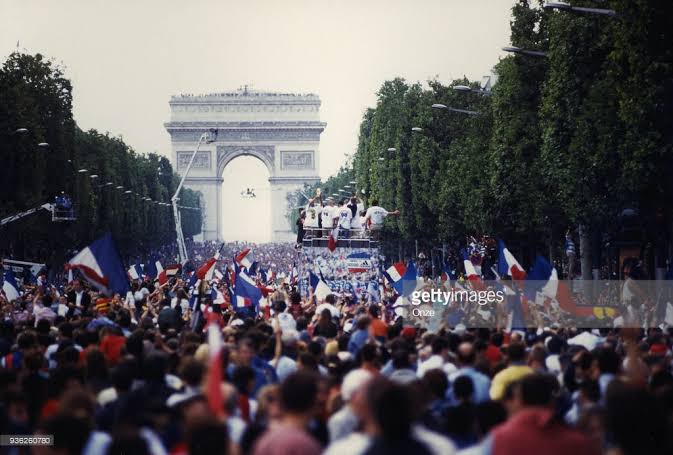 From World Population Review:
France Demographics
A law from 1872 prohibits the French Republic from conducting census by making any distinction between its citizens in terms of race or religious beliefs, so French demographics can be a bit hard to determine. In 2004, it was estimated that 85% of the population of Metropolitan France was white or of European origin, with 10% from North Africa, 3.5% Black and 1.5% Asian.
This law does not apply to surveys or polls, and a marketing company called Solis estimated numbers of ethnic minorities in 2009 as 5.23% Maghrebis, 2.94% black (a majority from Sub-Saharan Africa) and 0.71% Turkish.
In 2010, 27% of newborns in Metro France had at least a single foreign-born parent. Most French people today are of Celtic origin. The country has experienced large-scale immigration over the last 100 years. It's believed that 40% of France's population is descended, at least in part, from the waves of immigration since the start of the 20th century.
France Immigration
Like many of its neighbours, France represents a huge attraction for immigration and when statistics were released in 2008, it was reported that 11.8 million foreign born immigrants and their immediate descendants were residents in the country; a figure which accounted for around 19% of the total population of the time.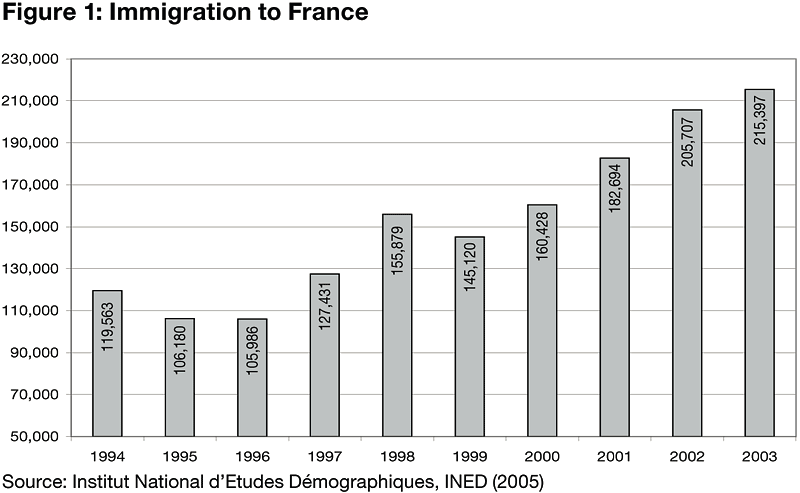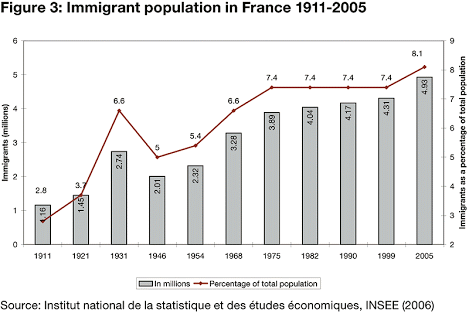 From CNN 17th of July, 2018:
In the capital, fireworks, flares and smoke bombs were thrown indiscriminately along the Champs Elysees, as fans refused to disperse and clashed with the advancing police.
French riot police used water cannon trucks to disperse people on Champs-Elysees avenue.
Windows were smashed and shops were looted, with similar scenes of unrest occurring in the cities of Lyon and Marseille.
Some 30 individuals broke into the luxury store Drugstore Publicis on Champs Elysees in scenes reminiscent of the 2006 World Cup final, when the shop was also damaged.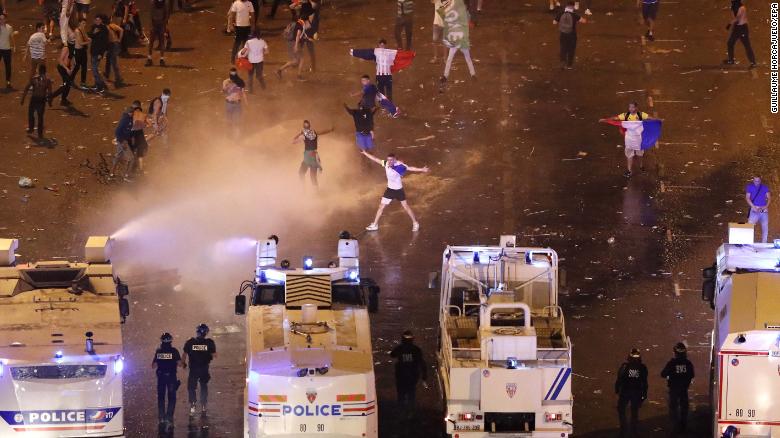 This is all self-explanatory.
Very few things call for so few words.