An African boy, 15, died tragically at Glenelg Beach in South Australia on Monday afternoon after being caught up in the notoriously dangerous waters.
Boy, 15, is second to drown in just over a week at Adelaide's Glenelg beach https://t.co/JjU2MKVCw3

— SBS News (@SBSNews) December 19, 2017
Following the incident, a gang of his friends bashed an Australian man who criticised them for reasons still unknown.
Rather than framing this as yet another case of out-of-control African gang violence in Australia's cities, or an ongoing problem with foreigners who are unable to swim drowning on our beaches, the Daily Mail Australia took a different angle for the story.
Their hook for the story was that the white Aussie who got savagely bashed deserved it because he's a racist.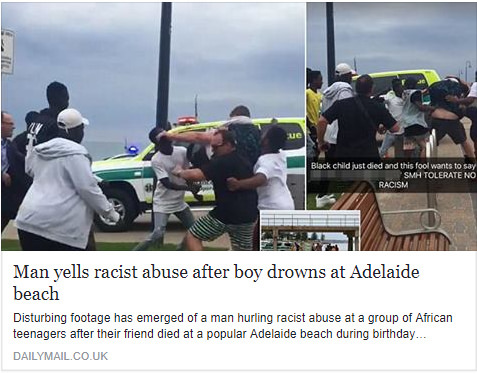 The problem for the Daily Mail is that, in the footage provided, there is no evidence at all that the Australian man was being racist. He is seen referring to the gang as "weak dogs", "cowards" and "black c—ts". There is no context for the altercation, and asserting that racism was motivating the man is an astonishing breach of journalistic standards.
Was the man angered at the gang for not helping their friend? Had he been accosted or verbally assaulted himself? What had occurred prior to the man's verbal outburst and the 15 youths viciously assaulting him?
We don't know, and neither did journalists Peter Devlin and Hannah Moore at the Daily Mail. They ran with the 'anti-racist' angle anyway.
The police have also stated that the drowning and gang bashing were unrelated. It is not clear at this stage whether the man who was beaten by the gang will take legal action against the Daily Mail Australia.
Last time we at the XYZ checked, it's still illegal too for a gang of youths of whatever colour to bash someone because their feelings are hurt. If anyone from the Daily Mail would like to enlighten us as to when that law was changed, we would be grateful.
In the meantime, Daily Mail, you're fake news.
Perhaps this is why, after the defamatory headline had garnered sufficient traffic, the Daily Mail Australia chose to amend the headline to something less inflammatory.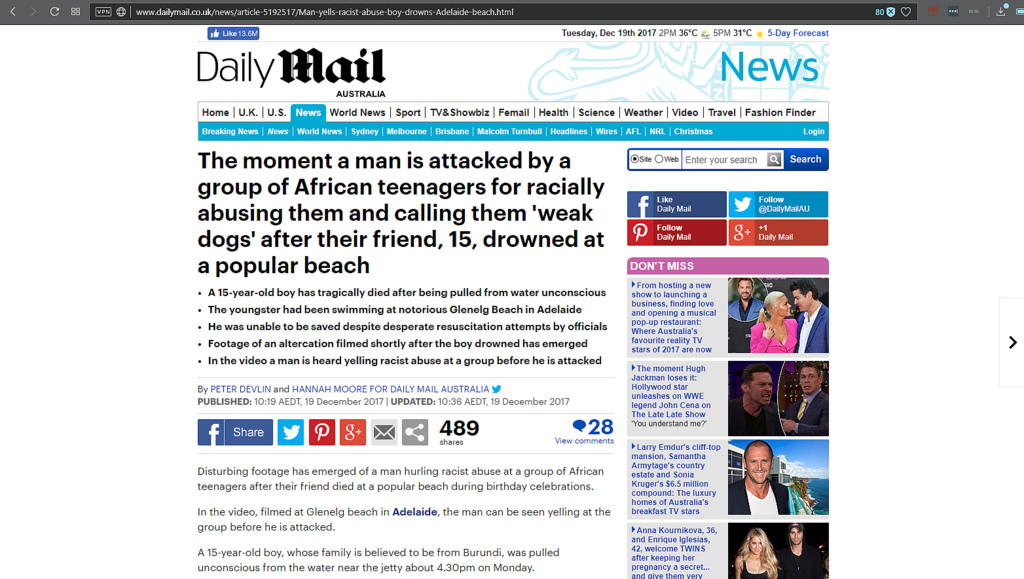 But that's not good enough. What the Daily Mail did here was leverage a tragic death and vicious gang beating to pander to anti-white prejudice among the left, drive traffic and thereby make money.
This is a new low for the mainstream media in Australia. Will anyone be fired? Of course not. There are no consequences for this type of fake news in Australia as long as it fits the ideological narrative.
That narrative, as we well know, is one of anti-white, anti-male hatred fostered through constant cultural Marxist indoctrination in our universities. Until our postmodern madrassas are flushed out and this neo-Marxist brainwashing ended, this type of anti-white racial vilification by the left-wing media will continue.
The far left media are determined to start a race war in this country. They routinely ignore violence by certain immigrant groups, omit vitally important facts about race and religion when they do or else spin stories to make them anti-white. You can't keep doing this indefinitely without generating a reaction from the majority of Australians, of all backgrounds, who are tired of the lies and want our spiralling refugee crime rates fixed.
The MSM distorting the news because of an ideological crusade against Western civilisation is preventing that from happening.
If this outrageous breach of journalistic integrity bothers you, why not tweet Peter and Hannah's boss and tell him about it?
It's your XYZ.