Listeners of Melbourne's Gold FM would have noticed that its breakfast hosts Jo and Lehmo have gone a little regressive-left in recent times.
This morning was beautiful.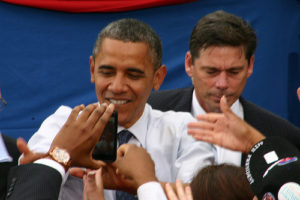 A listener quiz was held, as breakfast radio is right to do. They asked viewers how much former President Barack Obama is charging to speak at events..
No mention of the fact that America's first foreign-born Muslim President will be using the funds to set up his own version of the Clinton Foundation which he can use to peddle influence in Washington and foment rebellion on America's streets..
Eventually, the correct answer was given:
$400,000.
Lehmo pointed out that this is over $6500 a minute. Jo Stanley asked, "as long as he speaks for how long?" Lehmo explained that he spoke for an hour. He was too kind to explain that to her that she had all the information required to make a reasonable approximation herself.
One of the things which distinguishes the regressive left from normal people is their assumed sense of moral and intellectual superiority.
It was beautiful.
In other news, this morning their ABC radio was dissecting the ins and outs of Victoria's Communist Andrews government's budget, and various politicians, journalists, and commentators were repeating terms such as "needs" and "privilege" with regards to plans to increase funding for schools with high concentrations of migrants, and reduce funding for private schools.
This is all moot. All government funding of schools should be ended, tonight. That way, churches, parents and local communities can focus on the basics of multiplication and division, instead of social justice and the environment.
Photo by cwnewser