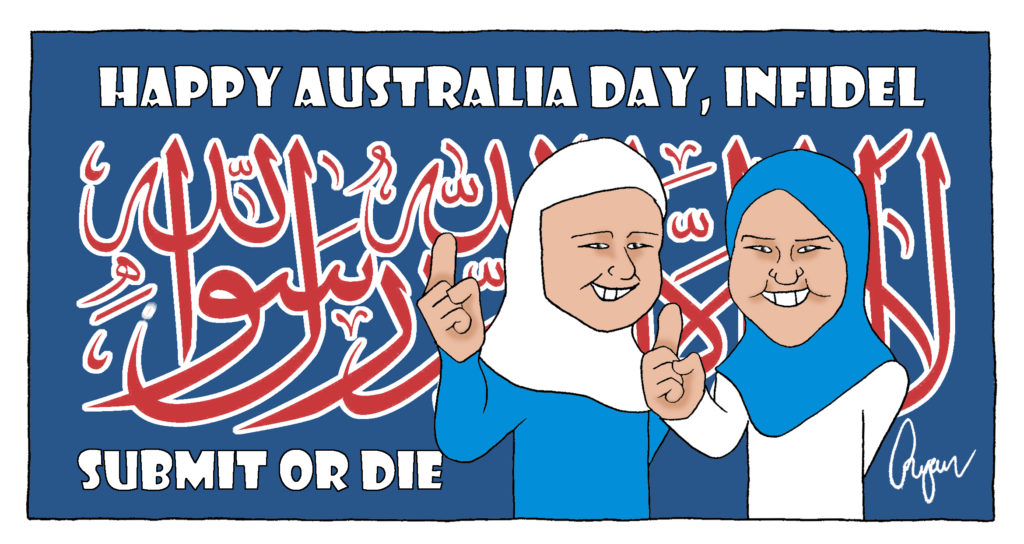 In what could only be characterised as a big "F-ck you" to true blue Australians, pseudo-"anti-racist" perverts have crowd-funded an ill-omened Australia Day billboard featuring two hijab wearing girls to be installed nationally.
Dee Madigan, who clearly loves showing off her feminist fedora, appeared to have wasted no time vamping up her Islamisation efforts in order to further antagonize sentiments of unease in the community with regards to Islam.
Dee and her pseudo-"anti-racist" mates are a part of this anti-Western agitation which praised this month's court decision in Germany that Muslims burning a synagogue was a legitimate criticism of Israel.
While most would question why we would make this draconian ideology (Islam) the face of our nation, Dee and her fellow travellers are quick to bark "racist" at you for even raising the question.
Because I'm a big believer in honesty in advertising, I thought I'd illustrate the corrections needed to make this dubious dissemination of the Dar al-Islam palatable to an Australian audience.
Food for thought.