It's well-known in every red light district around the world that Australians are seasoned travellers. In just about any country you go to you'll find a pub somewhere with Fosters bunting and a group of Aussies in thongs standing around a jukebox belting out Khe Sanh for the benefit of the locals. We just love different cultures.
Recently the editors at XYZ kindly invited me to travel all expenses paid to Phaic Tan to review the travel guide of the same name published by Jetlag. They also generously provided me with a stopover in Bali. It's clear that while the mainstream media are struggling to make ends meet, the coffers at XYZ are overflowing.
While in Bali, I thought to begin my research by asking some of the Australians I met there what they best love about the culture of the place. I first met Timbo and Tina, who seemed to have broken up with their spouses at the beginning of the trip and then 'hooked up'. They were both very forthcoming about how much they love the place.
'Yeah… nah… yeah bruh Bali's great. It's like Byron, but way cheaper and heaps more Asians.'
'Nah Timbo that's bulls—. Byron's got heaps of Asians now.'
'Yeah, that's true I guess. So I guess it's just like Byron then.'
'But way cheaper.'
'Yeah, way cheaper Stace.'
'Tina. It's Tina.'
'Oh yeah. S— sorry.'
Although the conversation ended quite awkwardly, it was clear that Timbo and Tina had enormous respect for the culture and traditions of Bali. The next Australian I met, whose name I think started with J, was a bit more guarded. 'What are you, the cops or something? If you don't want to score then f— off then!' I could see that J preferred to keep his own counsel, so I acquiesced to his request.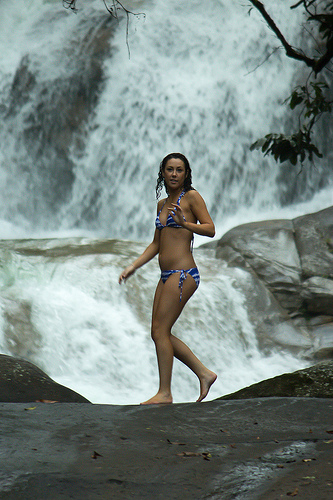 On the way back to the airport I met Bentley and her friends, who travel regularly back and forth between Bali and western Sydney. 'Yeah, I love Bali. It's like my favourite part of Australia. Although they had that bombing thing, I don't think they meant to. They're real peaceful and friendly people.' I asked Bentley if she or her friends had ever had any problems with the authorities in Bali. 'Nah, they're great. They're so friendly. Hey, I think my luggage is a bit over. Could you take my boogie board through the gate? It's just a bit too heavy for me.' I was happy to help Bentley out as a fellow Australian. It's clear that relations between Bali and Australia will remain positive for years to come.
I set off for Phaic Tan excited, and already a little sunburnt, with my travel guidebook in hand. I was excited to become more familiar with a country which has had centuries of multiculturalism. The ethnic rivalry and bloodshed that resulted has produced a delightful tapestry of culture that we can all now enjoy.
The primer provided in the guidebook is a great introduction to the history of this beautiful country. Entering the twentieth century under the leadership of King Mok Mai Schlong, the country suffered greatly during the war by following the advice of the court astrologer and supporting the Japanese. There was widespread unrest after the war, with the government having to introduce a 'One Coup Per Family' policy in 1948. Probably due to their fondness for cultural diversity and mass immigration, Phaic Tanese have been widely considered a warlike people since ancient times. The government has sought to curb the problem by adding oestrogen to the drinking water. Violent crimes have gone down, but the number of book clubs has risen dramatically. I was sure to buy bottled water throughout my stay.
I believe the most important thing to remember when travelling is to avoid projecting simplistic and inaccurate stereotypes onto the local people. It's a mark of respect as well to learn a few key phrases before travelling. The Phaic Tan travel guide was perfect for this. Although I'm not sure my pronunciation was perfect, I found the expression, 'Houy mai farater, po!' ('Not spicy! Foreigner!') very helpful. I still found the food painfully spicy, but the locals sincerely appreciated my inept attempts at their dysphonic native tongue. At least that's what they told me.
I decided to begin my tour in the capital Bumpattabumpah before heading down to the seaside region of Thong On. Despite the very large No Smoking sign on the dash of the taxi, the driver smoked continuously throughout our three hour drive from the airport to the airport hotel. He seemed to have rigged up an automatic cigarette lighting device which came down from the ceiling every ten minutes. How ingenious, I thought. I realised the sign must have just been for tourists to feel more at home, which is very kind of them.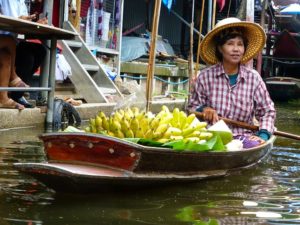 I checked in to the lavish hotel XYZ had booked for me and, feeling refreshed from the full body massage I received in the lift, I set out with my Phaic Tan guidebook to explore Bumpattabumpah. I soon realised that many things have changed in the ten years since the book was published. One of the restaurants mentioned in the book is Ho Binh, the first floor of which was a brothel. This two-storey building is now a shop which sells nail scissors and poodle fur dye. Another of the eateries reviewed, the Bodhi Tree, is now a bodhi tree. I asked the elderly ladies nearby walking their pigeons what had happened to the restaurant, and they informed me that no such thing had ever existed. Luckily one of them pointed me to a hawker food alley which specialised in grilled pigeon. It was very spicy.
Bumpattabumpah reminded me of Sydney on a really humid day. Especially Cabramatta. The sights, sounds and many smells filled the air with the tang and mystery that diversity brings. As I thought of this it occurred to me though, that Phaic Tan doesn't really look all that diverse to us Westerners. Unlike Sydney and Melbourne these days, everywhere still looked like Phaic Tan. I understand there had been a Little India, but it was burned down during the mass riots of 1951 when some Communists seized the radio station and declared a revolution as well as 'No Repeat Tuesday'. A statue of an elephant is all that remains.
I spent the rest of my time in Bumpattabumpah recovering from the grilled pigeon and consuming hydrating salts. Fortunately I was able to move again in time to make the trip down to the beautiful region of Thong On.
I chose to stay in the charming seaside city of Pattaponga. XYZ had booked me a suite at the Shangri-La Inn, which I had requested after reading the helpful description in the travel guide:
"One of the city's newer hotels (it was built in 1962), the Shangri-La boasts a staggering array of guest facilities. All the suites come with their own personal butler, complimentary cocktails and breakfast, all night pillow fluffing, free local calls, your own pants press, your own pants, daily newspaper delivery, someone to read it to you and a sunken bath so large it's possible to do laps. The hotel also offers free laundering of clothes or foreign currencies. Guest rooms also feature hand-woven carpets, each one with its own certificate of authenticity, featuring a photo of the pre-school child who made it. Those wanting to keep fit can choose between the gymnasium, squash courts or one of the hotel's two indoor, air-conditioned tennis courts, both staffed with a resident professional coach and ESPN commentary team standing by to call your match."
The photo on the certificate of the child who made the carpet in my room, Paw Mi, reminded me of the carpet schools I had seen while travelling in Egypt. My tour guide explained to me at the time that the carpet schools were set up to provide poor children with an education and also because their fingers were sufficiently small. I remember being struck by how far we've come now that even poor Third World children can receive a decent education. Such progress is a hopeful sign for the future.
Guide books, like chastity, are a dying cultural form. This is unfortunate. 'Phaic Tan: Sunstroke on a Shoestring' by Santo Cilauro, Tom Gleisner and Rob Sitch is a gem of a book that is a must-have for those visiting Phaic Tan.
As I watched my personal butler pack and shampoo my luggage on my final day in Thong On, I found myself reflecting cheerfully about the future. Phaic Tan has come a long way since Mok Mai Schlong, and Australia has as well. It fills my heart with pride that we've welcomed so many diverse people from so many diverse parts of the world with their diverse cultures into our teeming suburbs. It occurs to me that, one day, we won't even have to board a plane to go and experiences all the delights of diversity. We won't have to go overseas at all. The world will be on our doorstep.