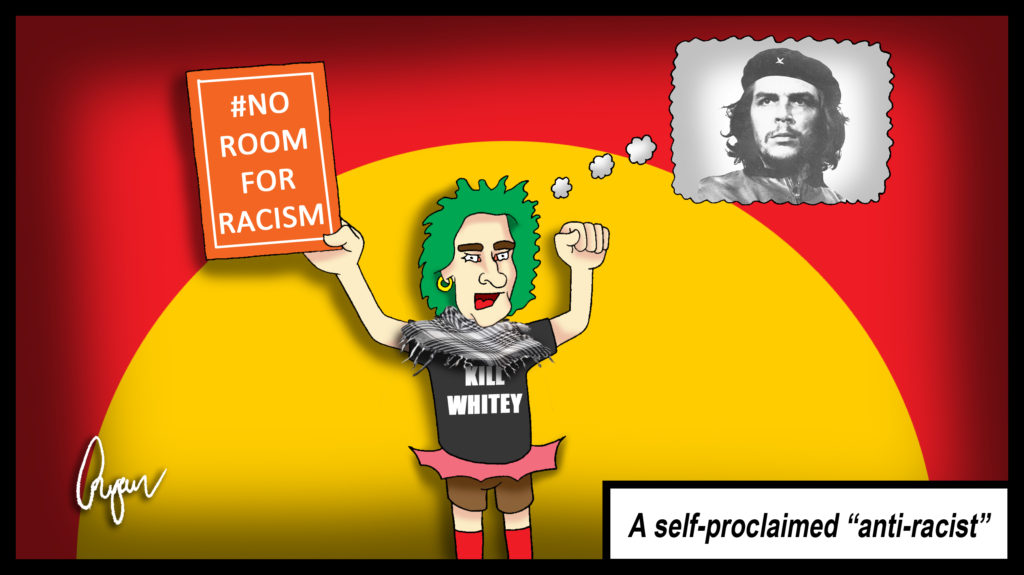 Routinely, I like to slag off at the inner city Trades Hall Trots who wrap themselves in the red and rainbow flags, declaring themselves "anti-racists" and "anti-fascists". These so-called "anti-racists" and "anti-fascists" submit to an array of eye-brow raising beliefs, which include (amongst other things):
1. The belief that "Racism and Whiteness are the same thing". According to their warped world view, if you're white (and don't feel guilty for it) you're a racist. If you date other white people and have white children, you're a racist. If you protest against racially motivated attacks against white people, you're a racist. So sayeth the "anti-racists".
2. Proclaiming solidarity with terrorist groups like Hamas and Hezbollah, (often proudly wearing the black and white keffiyeh), and applauding the hopes of these organisations that 'Jews will gather in Israel, so they don't have to hunt them down globally'. Apparently, in Lefty imagination-land, professing unity with Islamic militants, holding signs such as "Be prepared for the REAL holocaust" and "God bless Hitler", makes you an "anti-racist" and "anti-fascist", (and Leon's getting larger).
3. Complimenting their Jew-hating, kill whitey rhetoric, the "anti-racists" and "anti-fascists" have a fetish for totalitarian governance where blade, baton and gun brandishing "revolutionaries" can contribute to the 100 million plus death toll already resulting from Communist rule around the world.
In conclusion these career campaigners, out to destroy Western capitalism and install Communist rule, are as far from the labels "anti-racist" and "anti-fascist" as Omar Mateen is from "law abiding" and "upstanding member of society".
Food for thought.