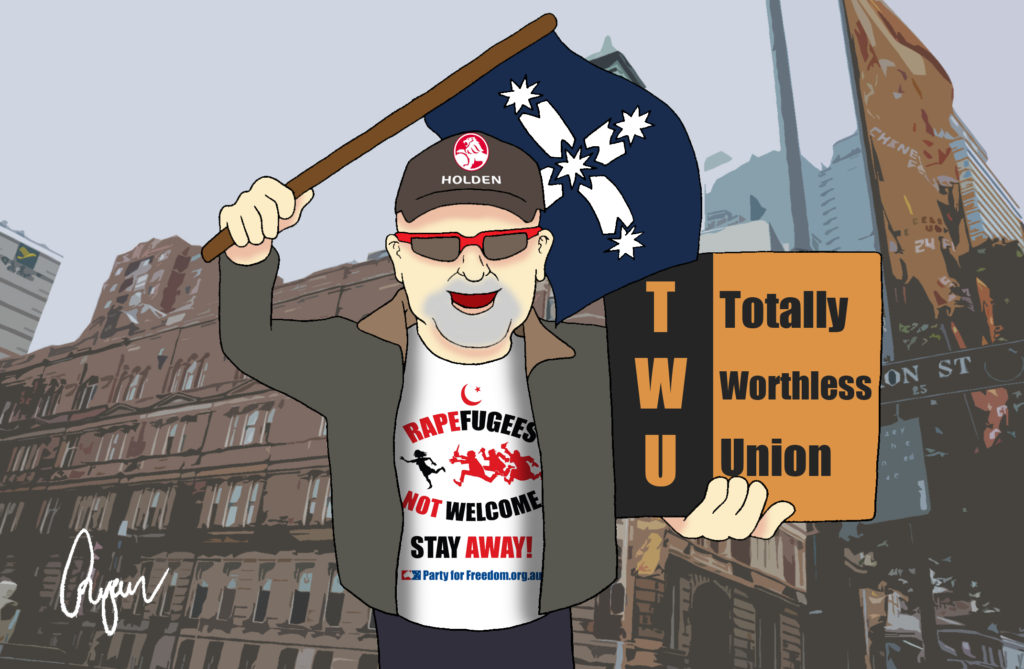 Recently my friend George Jameson was bullied, intimidated and harassed by 70 odd delegates of the Transport Workers Union (TWU) of NSW, who are loyal to the Union State Secretary Michael Aird.
George, himself a TWU delegate, was forcefully ejected from the meeting after flying the Eureka flag (of all things) and wearing a Party For Freedom t-shirt that read "RAPEFUGEES NOT WELCOME – STAY AWAY" (which revamped a Leftist "refugees welcome" graphic to highlight the outcomes seen during the Cologne attacks in Germany).
Typical of an ACTU affiliated union, George's membership was revoked. As a result George is now considering starting a campaign called the TWU: Totally Worthless Union, a protest against the Leftist domination Union monopoly in this country.
As a former job rep myself for an ACTU affiliated union, I've become increasingly aware of the rainbow republican agenda being waged by these organisations.
Their Green Left support for the burgeoning importation of the third world to Australia, the axing of our Constitutional Monarchy, the skewing of markets in favour of "pink money", installing parliamentary quotas of 50% women (and likely A% Muslim, B% LGBTIQP and C% in line with racial demographics) is just a slight insight to present Union insanity in Australia.
These collectivist types like to invoke the old truism "United we stand, divided we fall". I suggest patriots start doing the same and send a message to these pinkos that we're not selling out the country to Cultural Marxism.
Food for thought.
VIDEO SOURCE: George Jameson – Part 1 and Part 2