This advertisement was placed in the the British press following the Paris terrorist attacks, and was organised by the Muslim Council of Britain (MCB) on behalf of more than 300 local mosques and community groups.
Though I'm happy with the sentiments expressed in this full page spread, I'd like to ask a couple of questions:
How many, of the couple of hundred names at the bottom of the page, monetarily contribute to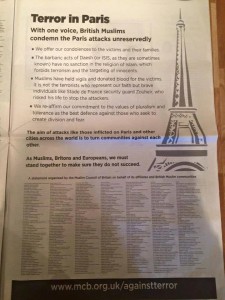 organisations like HAMAS, Hezbollah and the Muslim Brotherhood?
Out of the billions being funneled into these organisations, how much did the collective contributions to buy this full page add up to?
Reflect on the fact that Islam has strategies for both defensive and expansive warfare within the ideology.
Food for thought.