From the island state where key figures of the Australian Greens found their genesis has come the raw-speaking revelations of independent senator Jacqui Lambie.
To many social elites and inner city trendies she is sneeringly written off as a joke, but to those who embrace her down to earth assessment of the Green movement's vision for the country she is applauded.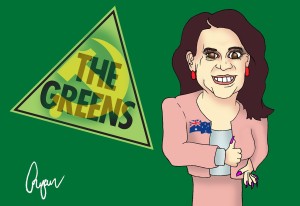 At the beginning of last month in a speech to a minerals industry conference in Queenstown Jacqui Lambie jokingly asked the question, "What's the difference between the Greens and ISIS?" to which she responded "Not very much! They both want to take us back into the dark ages."
After this statement permeated throughout the country, many people I know conveyed a subtle "hear, hear!"
Jacqui has been well known for her impassioned support for national service, standing up for preserving land for agricultural use, talking up manufacturing and most notably greater pay conditions for Australian Defence Force personnel and veterans.
Recently on the ABC's Q&A program I came across a statement that made me see the steel eyed resolve of this absolutely fair dinkum conservative woman. After reminding the audience of what you get out from putting in with renewable energy, Jacqui Lambie very sincerely stated:
"I think it's about time we opened debate when it comes to our nuclear and uranium. We have 30% of the world's uranium here in Australia, and we're not sucking everything out of it that we should be and I think it's about time we opened it up and we talk about it."
To that I zealously say "hear, hear Jacqui Lambie!"
Food for thought.