Today was Lady Flo Bjelke-Petersen's 95th Birthday. For many people Lady Flo is remembered humbly for her pumpkin scones, for me she is a revered as a sacred figure in conservative politics.
Lady Flo and he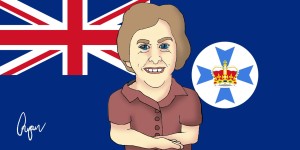 r husband Sir Joh Bjelke-Petersen (the longest-serving and longest-lived Premier of Queensland) were a necessary political team for their time and their legacy will remain etched into the Australian psyche for many years to come. Their brand of conservatism threw down the gauntlet to the federal coalition saying "we will not compromise our principles for strength, security and productiveness to appease those destructive riff-raff on the Left".
Lady Flo and Sir Joh imbued strong Christian principles when deliberating upon public policy and it undoubtedly delivered great development and prosperity for the state of Queensland. Sir Joh's service for nineteen years as premier is a testament to what can be accomplished under leadership with a long-term vision for the country.
Though the Joh for Canberra campaign unfortunately put a spanner in the 1986 conservative bid against Bob Hawke it ultimately delivered an important lesson to rank and file conservative voters. This lesson simply could be summarized as always co-ordinate the fires you ignite in the bush against the divide and conquer strategy of the Left.
Sir Joh's gravestone aptly has the biblical verse Hebrews 11:1 scribed upon it, "Faith is the substance of thing's hoped for and evidence of things not seen". Many of the thing's hoped for by Sir Joh would not have come to fruition without the tremendous loving input of his wife Lady Flo.
Though a formidable political operator in her own right, Lady Flo "softened" the team's tough love approach to getting things done for Queensland. Had Lady Flo and Sir Joh reached Kirribilli house and implemented their vision for Australia who knows how far ahead we would've gotten by now.
Food for thought.