Yesterday Liberal Democrats Senator David Leyonhjelm very concisely delivered two speeches to the Federal Senate addressing nuclear energy and animal welfare.
Senator Leyonhjelm effectively conveyed in a well-mannered fashion how outdated hysterical ignorance and vigilante extremism sets out to undermine the importance of these issues.
When Senator Leyonhjelm stated "If we want to we could also take the first step towards cutting Australia's carbon emissions in half. This is the kind of result we would achieve if nuclear power flourished in this country" I silently applauded from my computer.
Despite interjections from Greens Senator Scott Ludlam (who is the spokesperson for his party's "nuclear-free world" policy) Senator Leyonhjelm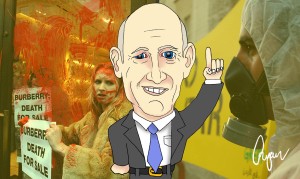 continued to articulate an admirable overview as to why nuclear energy should be legalized (in support of Family First Senator Bob Day's amendment to the Australian Radiation Protection and Nuclear Safety amendment bill).
When I heard Senator Leyonhjelm summarize that "In the end it is consumers, not retailers, who make markets. The PETA roar was exposed as a squeak from an impotent mouse" I was saying hear, hear out-loud to the computer.
Animal rights activists like PETA and the dubious Animal Liberation Front (ALF), who apply human rights to animals, aim for an animal use free world. As David Leyonhjelm explains "the complete abolition of meat, milk, cheese, eggs, honey, zoos, aquariums, circuses, wool, leather, fur, silk, hunting, fishing, and pet ownership". The senator went on to say "PETA is also against all medical research".
Who in their right mind would vote for the Greens or support PETA and their terrorist pals in the ALF?
Food for thought.